If you ever watched Tour de France, you've probably said to yourself "one day, I'm going to ride those mountains."
Only to put the ambition aside and go on with your life.
Surely, such a trip takes a lot of planning and careful preparation?
Except, it doesn't.
This summer, my girlfriend and I booked a spontaneous flight to Nice. And rode through the French Alps to Geneva on two light-rigged road bikes.
And what a ride it was.
This post summarises our experience. Along with some tips for anyone considering doing a similar trip.
In this post I will cover:
Our route from Nice to Geneva (following the Route Des Grandes Alpes)
Our preparations
How we packed our bikes
Info about each daily stage
A summary of what to consider for your own trip
Keep on reading to see how we endured the alps.
Route des Grandes Alpes: A bucket list ride
We had talked loosely about the concept for some time – an adventour riding through the tenderloin of French Alps from Geneva to Nice.
However, since we booked our flights only 2 weeks in advance, flying out to Nice and doing the reversed route was the only available option. Hence, our journey would be going from French riviera in the south to the Swiss border in the north.
From a past trip of mine I had a vague idea about where I wanted to ride. I had done Col du Galibier as a part of a training ride along the La Marmotte route, and knew I wanted to visit this place again.
Furthermore, we knew of many of the famous passes, having spent too much time drooling over Instagram. Col de l'Iseran, Col d'Izoard and Col de la Bonette were all high on the list.
A quick google search revealed several commercial actors organising rides along something called Route des Grandes Alpes. When I looked it up, it fit the bill rather perfectly.
"No need to reinvent the wheel."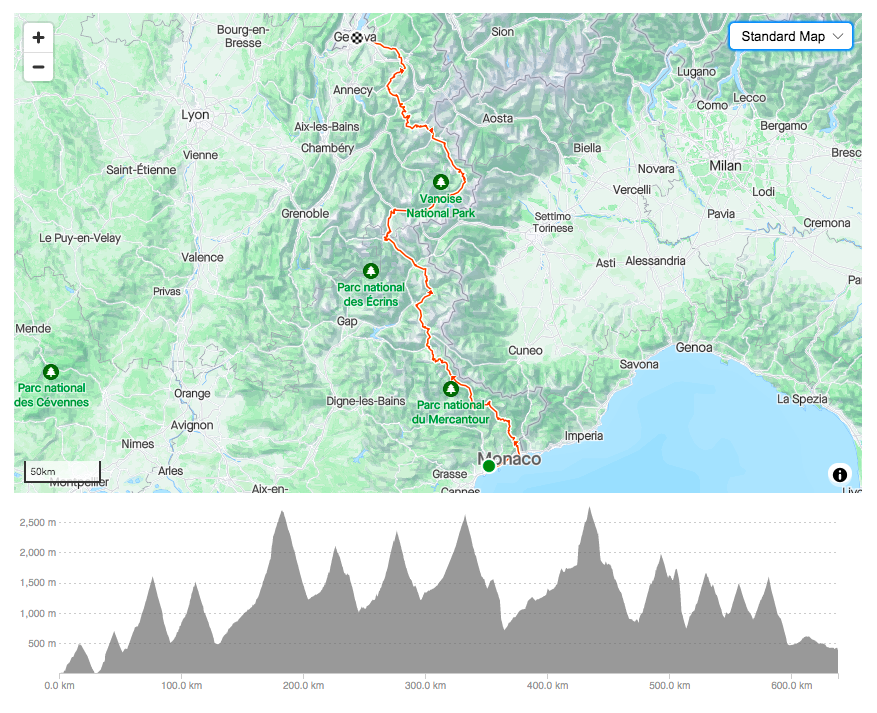 Strava link to entire route: https://www.strava.com/routes/3115756255825476028
The route covers approximately 640 km from the Mediterranean Sea to Lake Geneva. More notably, it involves upwards of 16 000 vertical meter of climbing across 12 mountain passes. This includes five cols above 2000 meters of altitude, with the highest being Col de la Bonette (2715m), Col du Galibier (2642m) and Col de l'Iseran (2764m).
We decided to do the trip over 7 days of riding, with one rest day embedded between day 4 and 5. This made our daily planned average distance 91 km. Each day we would climb an average of 2340 meters.
Training for the trip
Physically, it's fair to say both Natalie and I were rather underprepared.
Apart from a 2-week workation (with bikes) in Malaga in January, and a 1-week cycling holiday in Girona in May, we hadn't done much riding this year.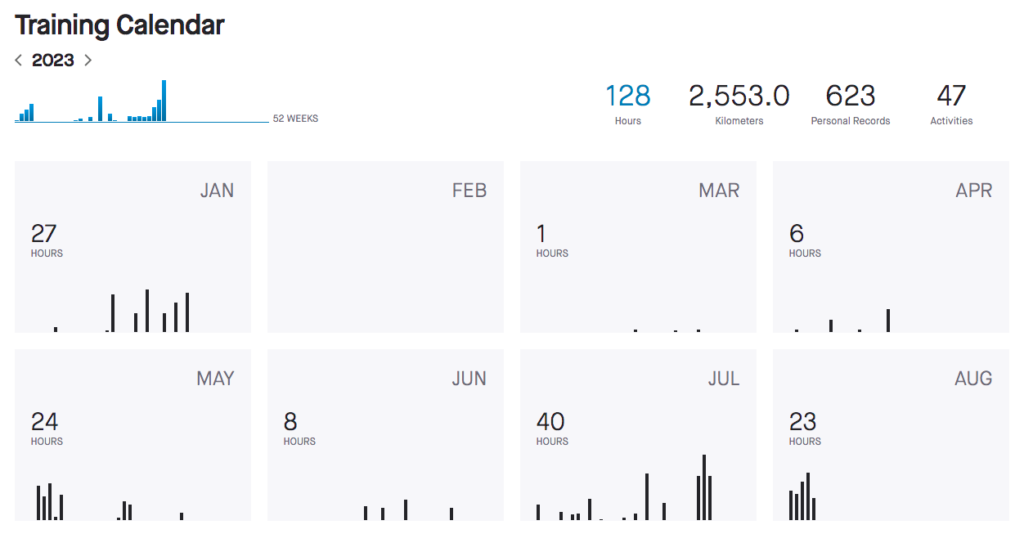 That being said, my past experience from sudden cycling trips has left me surprised at how much volume the body can tolerate as long as the intensity is kept sufficiently low.
So we banked on this to hold true. We managed to get in a few 3-6 hour rides in the final two weeks before departing to Nice.
Safe to say we were somewhat anxious about the journey ahead of us.
Light-weight bikepacking: How to stay and what to bring?
Seeing that one person in our group has an outspoken aversion towards tenting, sleeping outside was out of the question. I wasn't particularly keen on carrying tents and sleeping bags either, so we quickly decided on staying at a combination of Airbnbs and hotels.
This allowed us to pack our bags super light.
Having never bikepacked before, the process of deciding on what to bring, and how to bring it, was an exciting journey in its own right.
I've always found that Bontrager makes accessories of high quality and with clever solutions, so when we found the Bontrager Adventure saddle and handlebar bags (both 9L) on sale, that was an easy choice.
This turned out to be more than sufficient to accommodate our necessities. The bags were mounted on our Trek Emonda SLR7s, which added approximately 6.5-7 extra kilos to the bike weight.
My entire packing list is described in detail below:
Riding apparel
Bike shoes
2 bib shorts
3 cycling jerseys
1 upper body base layer
1 vest
1 light-weight rain jacket
Arm sleeves
Cycling gloves
Thin woolen gloves
6 pairs of latex gloves (for mechanical issues and rainy days)
2 pairs of socks
Cotton shoe covers
Leisure apparel
Sailor shoes
1 pair of trousers (golf-trousers, unmatched for comfort and light-weight)
1 pair of shorts
2 t-shirts
Thin wollen sweater
Underwear
1 pair of socks
Tooth brush
Chamois cream
Pain killers (Paracetamol & Ibuprofen)
Ear buds (for sleep)
Thin silk sleeping bag (good when only thin sheets, or too warm covers are provided)
Tools & equipment
Chain cutter
Spare chain links
2 spare tubes (per person)
1 patch kit
2 tyre levers
1 small pump
Allen key set
2 sets of spare brake pads (because of the descents)
Front + back lights
Battery charger for gears (1 between the 2 of us)
2 power adaptors (to speed up charging phones, computers, lights & gears each night!)
Garmin computer
1 musette feed bag (brilliant to carry extra food mid-ride!)
The above left our bags packed to the brim during our flight (we brought them as carry on baggage, helmets and glasses on our heads like straight out of Dumb & Dumber). However, as soon as we geared up to ride our bikes, there was actually quite a bit of room left in our bags.
The big headache: How to transport your bikes
It was quickly apparent that we couldn't transport our bikes in our soft bags. There are indeed services that can transport luggage (e.g. bike bags) from Nice to Geneva, but they were rather expensive, and with uncertainties attached to delivery speed we quickly discarded that option.
This left us with having to organise cardboard boxes to ship our bikes in. Fortunately, our local shop Braasport had some available which they kindly gave us for free. Lots of good karma their way!
Getting the bikes ready for the return trip from Geneva was the bigger headache. We emailed about a dozen local bike shops in Geneva, initially without much luck.
However, the Switzerland-based cycling store Velomania wrote us back and kindly offered to keep some boxes for us.
With that final conundrum sorted, we were eagerly awaiting our French-Swiss adventour. We hardly slept the last few days due to the excitement.
Route des Grandes Alpes: A day-by-day report
We arrived at Nice Airport late Friday night.
We'd booked a hotel close to the airport, which turned out to be a smart move. Our initially late afternoon flight was a further hour delayed in traffic.
Of note, even the airport hotels are a bit far for carrying a heavy bike box. I'd suggest negotiating taxi fares before getting in the cab to avoid paying a ridiculous "fixed Nice fare" for a 3 min cab ride.
Just past midnight our bikes were finally assembled in our hotel room. The young on-duty night manager mercifully agreed to dispose of our cardboard boxes for us.
This was our second exposure to the most important lesson of our trip:
On a journey like this, practical challenges will arise. At which point you will depend on the goodness of the people you meet. So make an effort to make a good impression. Although I never learnt as much French as I intended before departure, I found that my "Je désolé, je ne parle pas français. Vous parlez anglais?" brought us a lot of goodwill.
Je désolé, je ne parle pas français. Vous parlez anglais?

Compulsory phrase when in France
Route des Grandes Alpes day 1: Nice to La Bollène-Vésubie // 95 km // 2564 vertical meters
Noteworthy passes: Col de Turini (1607m)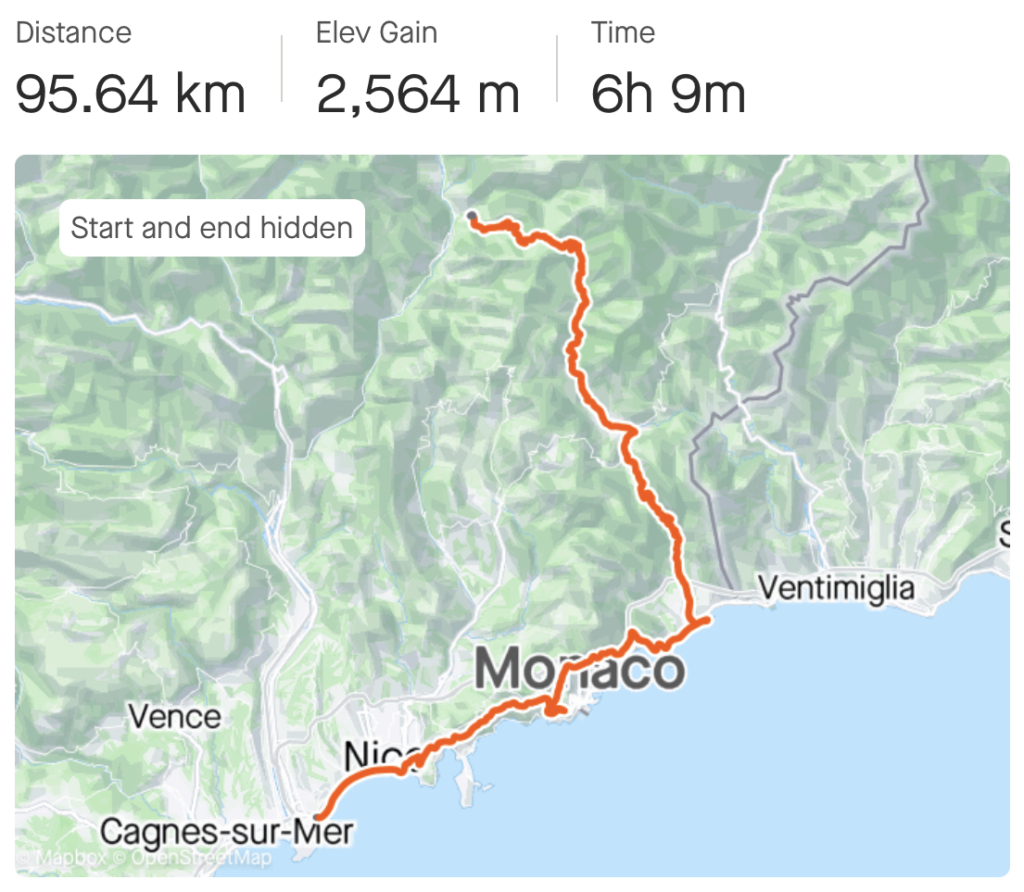 Strava file: https://www.strava.com/activities/9544809965
We set out from Nice along the beach walk, held up only by a compulsory stop at The Service Course for coffee. We also took the opportunity to borrow a proper pump to top up the pressure in our tires – which would become an important daily habit for the week to come.
As pretty as the Cote d'Azur is, the ride along the coast was perhaps a bit underwhelming. If anything we were more excited about being on our bikes and having started our journey than we were about Hollywood holiday spots and big hotels.
"Here for the mountains, baby!"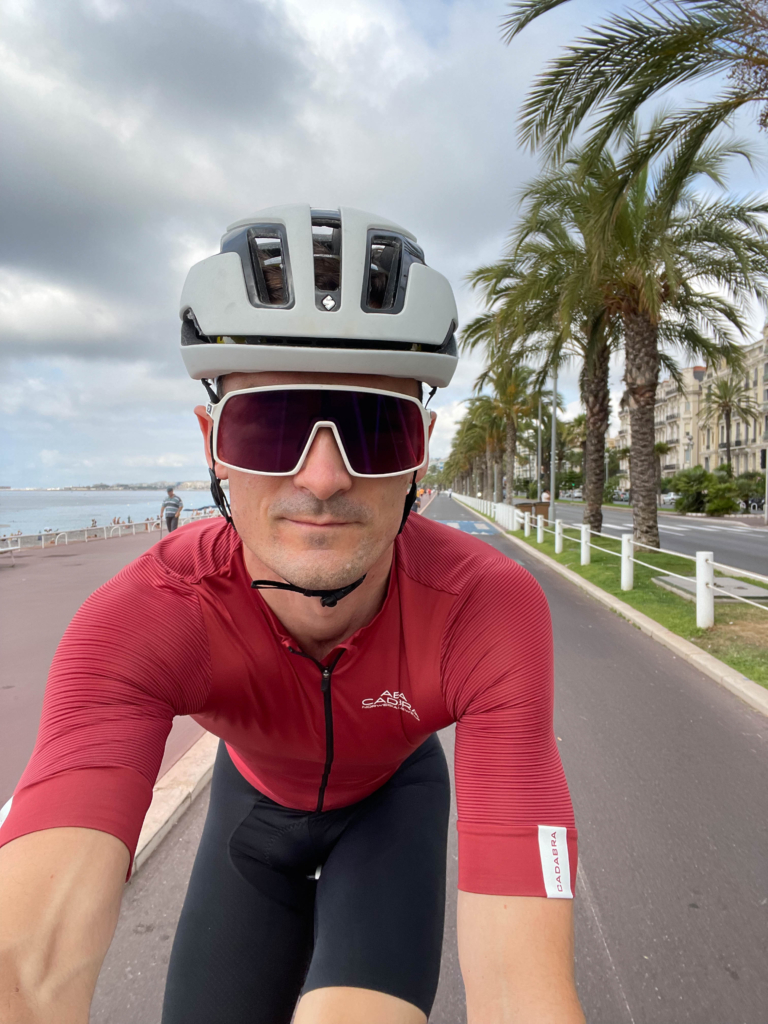 We quickly passed Monaco and descended into Menton, a far more cozy beachside town than its bigger siblings in the west. The truffle ravioli at Le 31 was exquisite.
The climb to Castillon took us out of the populated areas and provided the first feel of the mountains. A gentle and relatively uneventful climb without too much to see. Yet, we were excited to start climbing – and I was getting anxious about my legs feeling heavy already.
Before arriving in France we'd had some concerns about traffic. This turned out to be unfounded. Aside from what you would expect at any populated costal route, this never caused any issues. And as soon as we left the populated areas, we were all alone save from the odd car and motorcycle.
The second, and longer, climb of the day revealed why we'd chosen this particular road. A stretch of bends and turns clinging to the cliffs that makes home of the Rally Monte-Carlo made for an exciting introduction to the Col de Turini climb.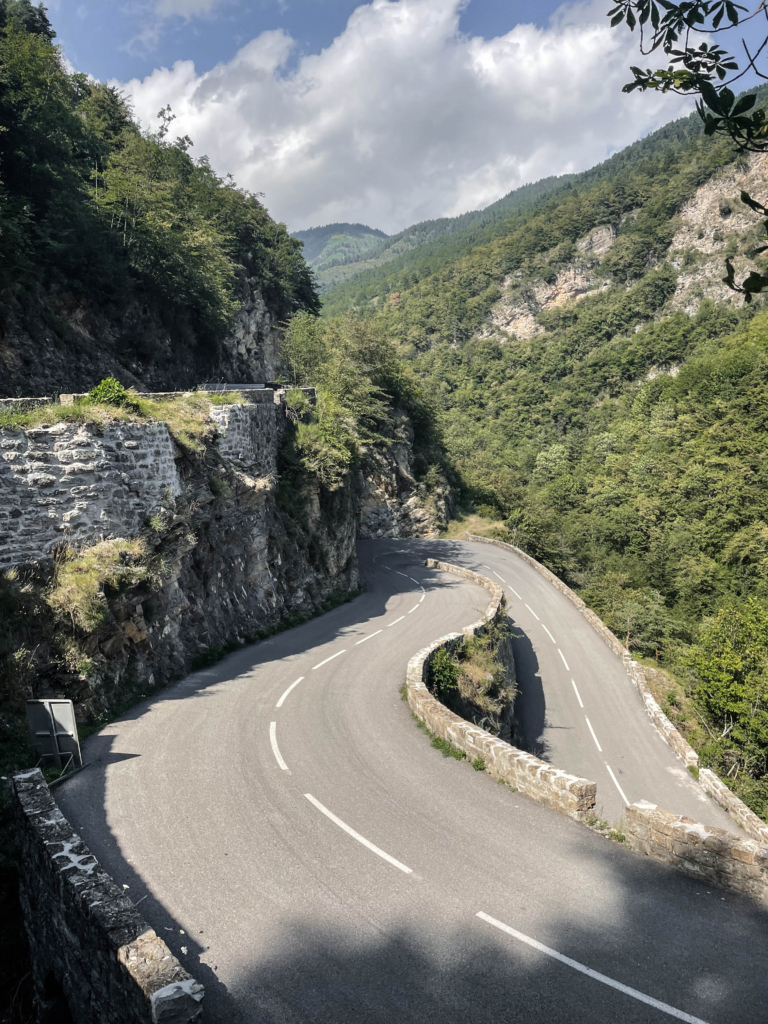 24 kilometers and some 1200 vertical meters later we replaced sighing over 7 kg extra weight with salutations for having reached the peak of our day 1 ride.
We descended onto La Bollène-Vésubie with the first glimps of the spectacular views French alps. Situated 5 km up from the valley below, this sleepy village turned out to be one of the many highlights of the tour. The Airbnb was excellent, the village genuinely untouched by commercialism, the next door grocery store with spectacularly tasty fruits and vegetables – and the store manager even spoke perfect English.
And we'd only just begun.
Route des Grandes Alpes day 2: La Bollène-Vésubie to Barcelonette // 134 km // 3558 vertical meters
Noteworthy passes: Col de la Bonette (2715m)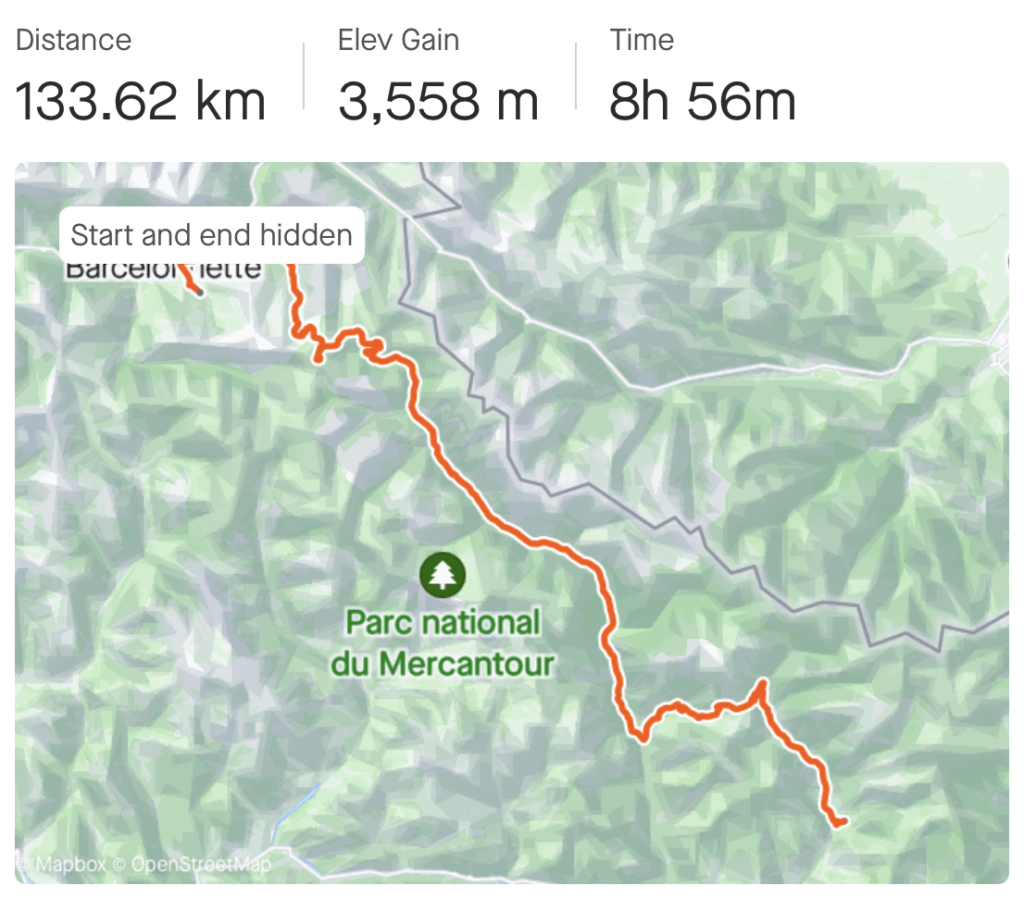 Strava file: https://www.strava.com/activities/9552431478
We rose early the next morning, anxious about the second day. The one we'd been dreading.
Not just the longest ride of the trip, but also the one with the most climbing. And to make it more challenging, also the part of our route that was most remotely situated.
We had a lot of distance to cover, and we'd need to time our meals perfectly. And avoid accidents.
The first climb of the day, 1000 vertical meters to Col Saint-Martin, was tough enough in its own right. But even more so mentally, knowing that the next one would be twice as long.
Tempers ran high when we wasted 30 minutes waiting for service at a restaurant during a motorbike festival in Isola – only to get "je suis désolé, we are all out of lasagna".
We downed the biggest pizzas I've ever seen in the next village and rushed off for Col de la Bonette while there was still daylight left.
The first half of the climb was hidden in trees with no real views to report. Whereas the second half exploded in a sea of green and yellow fields, cows grazing, small cottages scattered in the hills and ultimately – the bare rocky peaks that arise when you're passing 2500 meters altitude.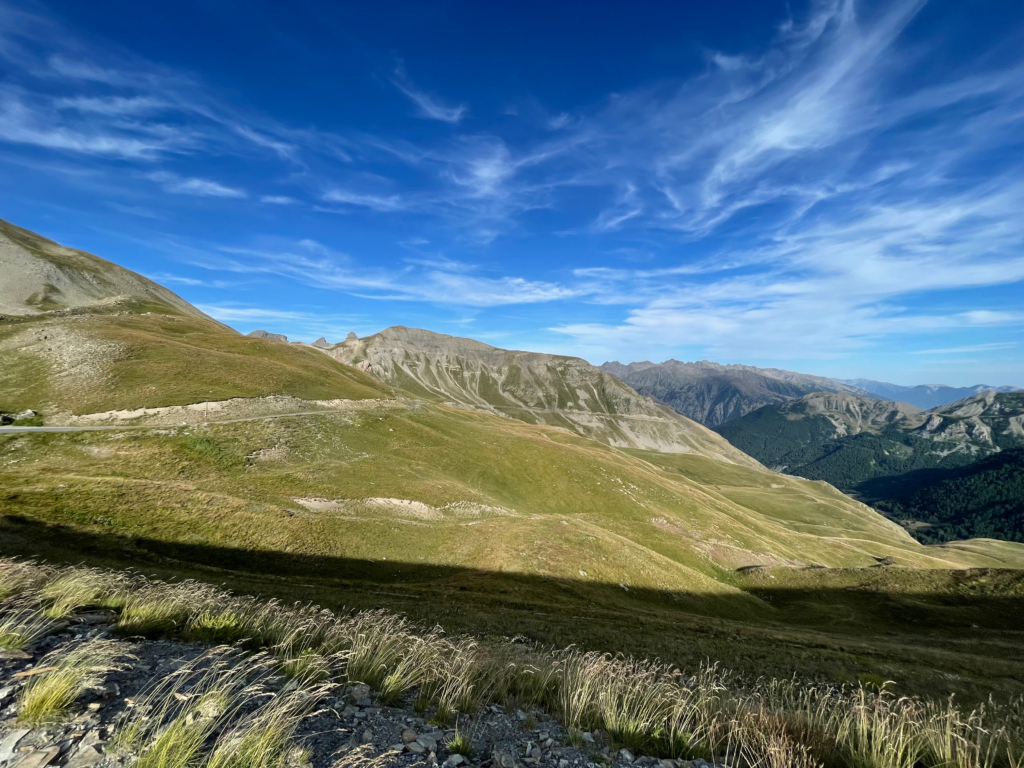 For the first time on our trip I got to enjoy the comforts of my layering strategy – vest, rain jacket, wollen gloves and latex gloves on top.
The views from Cime de la Bonette, the small peak just next to the pass itself, were majestic. But that was nothing in comparison to the SUBLIME descent that awaited on the north side.
"This must be where cyclists end up when they die and go to heaven," I thought. Beauty beyond words.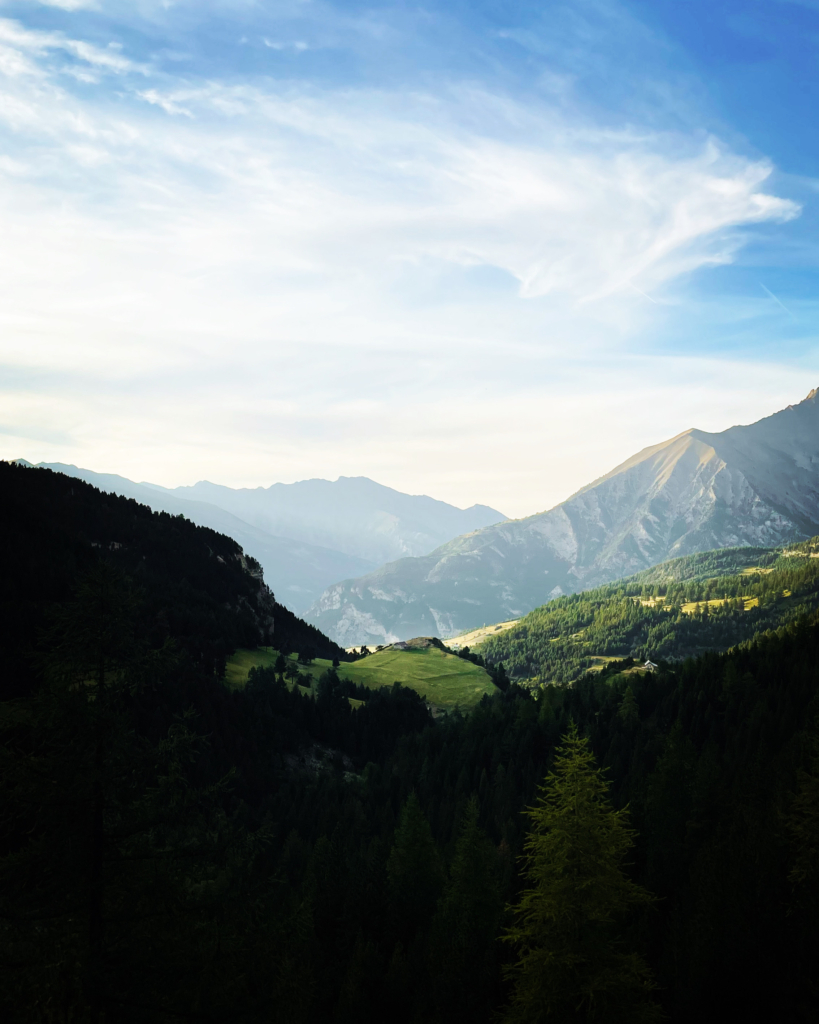 I'm somewhat sad I didn't stop to take more photos. But I'm also glad I didn't – I was too busy taking in the experience of flowing down the most beautifully stretch of tarmac that have been ever created.
We arrived at Barcelonette past nightfall, exhausted and overwhelmed by what we'd just experienced.
Our situation at the coveted burger place we stopped at for a late dinner summarised our day perfectly:
"I am sorry, we only have one burger left."
"That's OK, we'll have two of that one then, please!"
"No no, we only have one burger left. One piece of meat and one bun."
(silent disappointment…)
"Great, we'll share that one, please!"
Funniest part of the day: Just as we paused on Col de la Bonette, surging with pride from our achievement, this French guy overtakes us. Casually pedaling up the 2700m col on his big ring, no effort whatsoever. Apparently broke his front derailleur.
Confidence immediately lost.
Practical tip: If ending your day north of Col de la Bonette, try and find accommodation in Jausiers, if you can. Cozy place, and will save you the 16 km round trip to Barcelonette.
Route des Grandes Alpes day 3: Barcelonette to Briançon // 107 km // 2484 vertical meters
Noteworthy passes: Col de Vars (2108m), Col d'Izoard (2360m)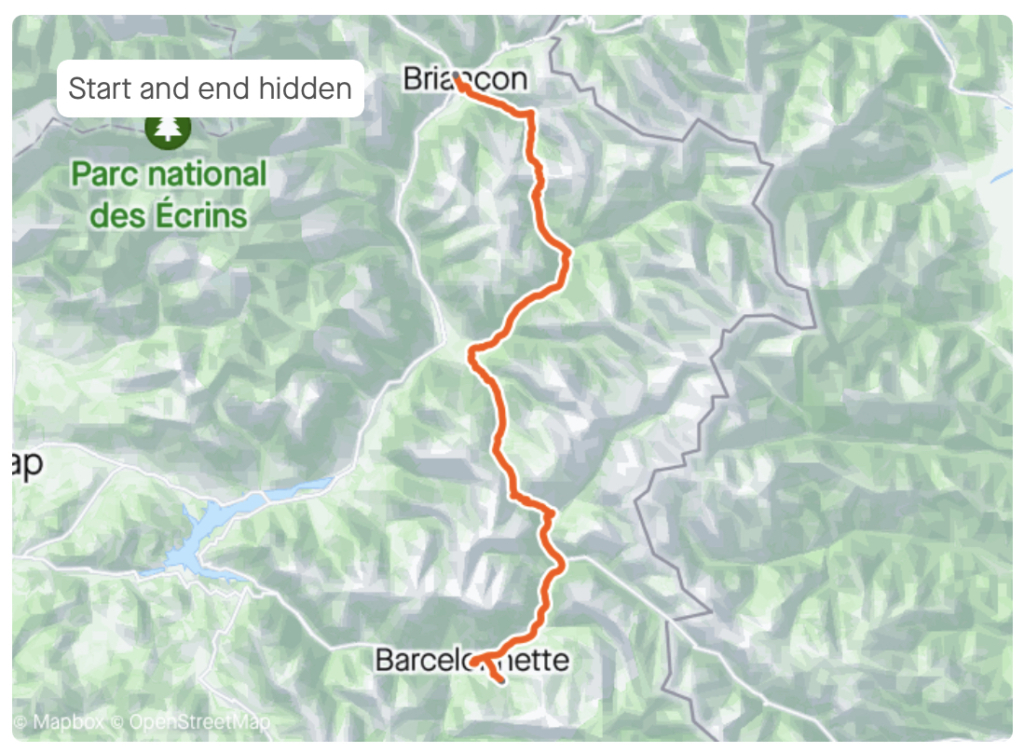 Strava file: https://www.strava.com/activities/9556464703
Another day, another challenge.
Fitness adaptation from the last two days of riding not yet present.
Fatigue from said days, very much so.
And it's hot.
However, the transport up the valley from Barcelonette towards Col de Vars was spectacular. The French countryside with its golden fields is something out of a painting.
Some kilometers and a river further up the valley, the climb up Col de Vars was an absolute treat. Great views and lots of friendly cyclists with smiles all around. One of my favorites among the "smaller" climbs of the trip.
Up the second col of the day, Col d'Izoard, smiles were much less present. Which I attribute to the rising temperature and the consecutive kilometers of 10% gradient.
We struggled between the despair of being blown off the road by groups of properly strong looking French riders, to feeling good about ourselves when overtaking cyclists walking up the final kilometers of the climb.
I was particularly pleased with having an opportunity to deliver my second pre-rehearsed sentence in French:
"Tu va bien?"
(looking closely trying to interpret the body language of the recipient, as I never understood the answers)
We arrived in Briançon around 6 pm, pleased to once again having time to prepare a proper supper.
Practical tip: A great thing about staying at Airbnbs is that most of them have washing machines. So we were able to do our laundry at least every second day, which was quite a positive bonus.
Route des Grandes Alpes day 4: Briançon to Saint-Michel-de-Maurienne // 72 km // 1540 vertical meters
Noteworthy passes: Col du Galibier (2642m) south side ascent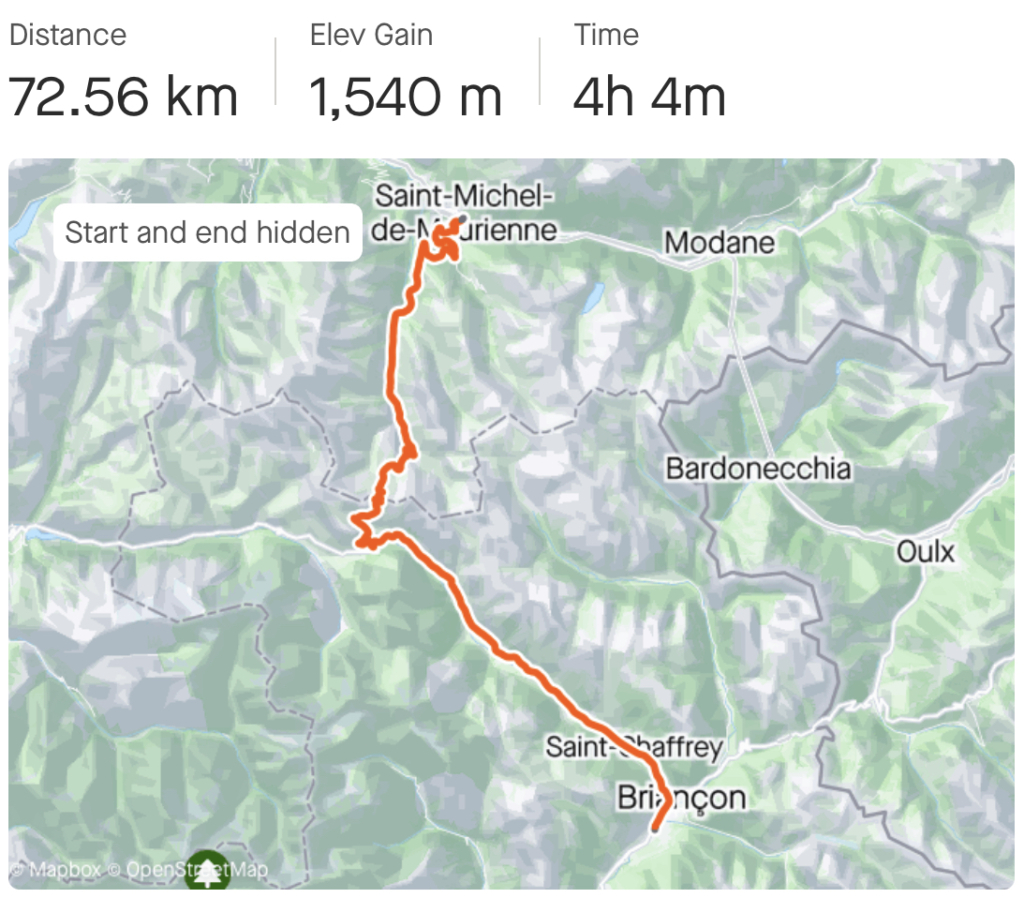 Strava file: https://www.strava.com/activities/9562536165
The easiest day of the trip came close to being one of the hardest.
Due to the gentle distance of only 72 km and one climb only, we granted ourself a late morning. Only to find I had a flat back tire and a poorly functioning pump – entirely unable to produce the roughly 6 bar I wanted in the new tube.
We spent the morning riding gingerly around Briançon on my 1,5 bar tire pressure to find breakfast, coffee and a bike shop to buy a new pump.
We set out from Briançon around noon, heading straight into a strong head wind and an ominous weather forcast. 15 kilometers later we produced every layer of clothing we'd brought, just in time before our head wind was accompanied by rain.
The rain did nothing to speed up our progress up the 30 km long false flat towards Col du Lautaret. At the col, Natalie was thirsty for coffee. Being fed up with the condescending looks I receive when ordering coffee with milk along with her double espresso, I opted for a hot chocolate.
Miraculously, as we left the cafeteria, a small crack in the skies appeared and the sunshine broke through to wash the rain away as we started the final 8 km towards Col du Galibier.
I remember descending the south side of Galibier from my trip to Alpe d'Huez in 2018. But I had entirely forgotten how stunning the views are.
What's more, I always find that riding any piece of road in the opposite direction provides an entirely different experience than going the other way. So even though I've ridden Galibier before, I was discovering the south side of the mountain for the first time.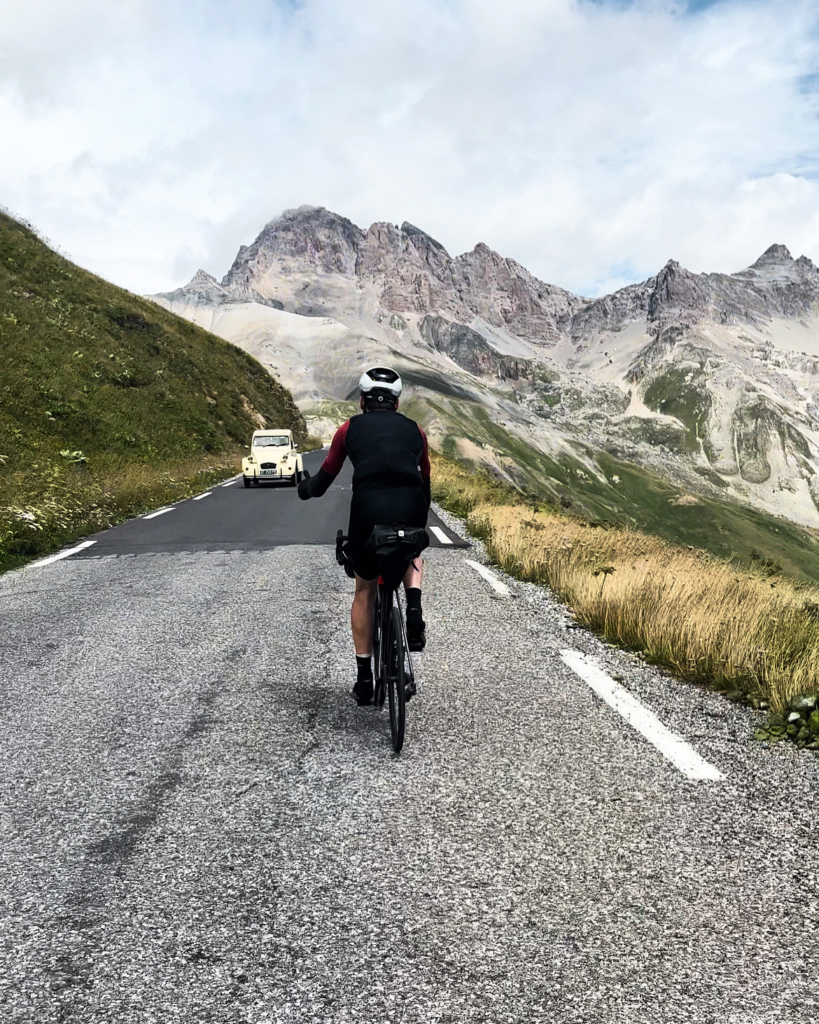 After about a hundred "oh my God, it's so pretty" we rolled over the top. For the first time on our trip we were sad that a climb came to an end. Eventually, we headed for the bottom of the valley on the north side. Still mercifully greeted by sunshine, despite rain clouds looming in every direction.
Practical tip: Bringing bikes to hotels (in France and elsewhere) can be a nuisance. You often won't be allowed to bring the bikes to your room, which leave you at the mercy of whatever storage facilities they got. So check ahead before booking. Our hotel had a room for storing bikes and luggages. Combined with an Apple airtag duck taped to my seat, the motion based alarm set on my Garmin and a wire-based ski lock joining our two bikes I was quite at ease leaving the bikes in the storage.
Route des Grandes Alpes day 5: Recovery day in Saint-Michel-de-Maurienne // 70 km // 2129 vertical meters
Noteworthy passes: Col du Galibier (2642) north side ascent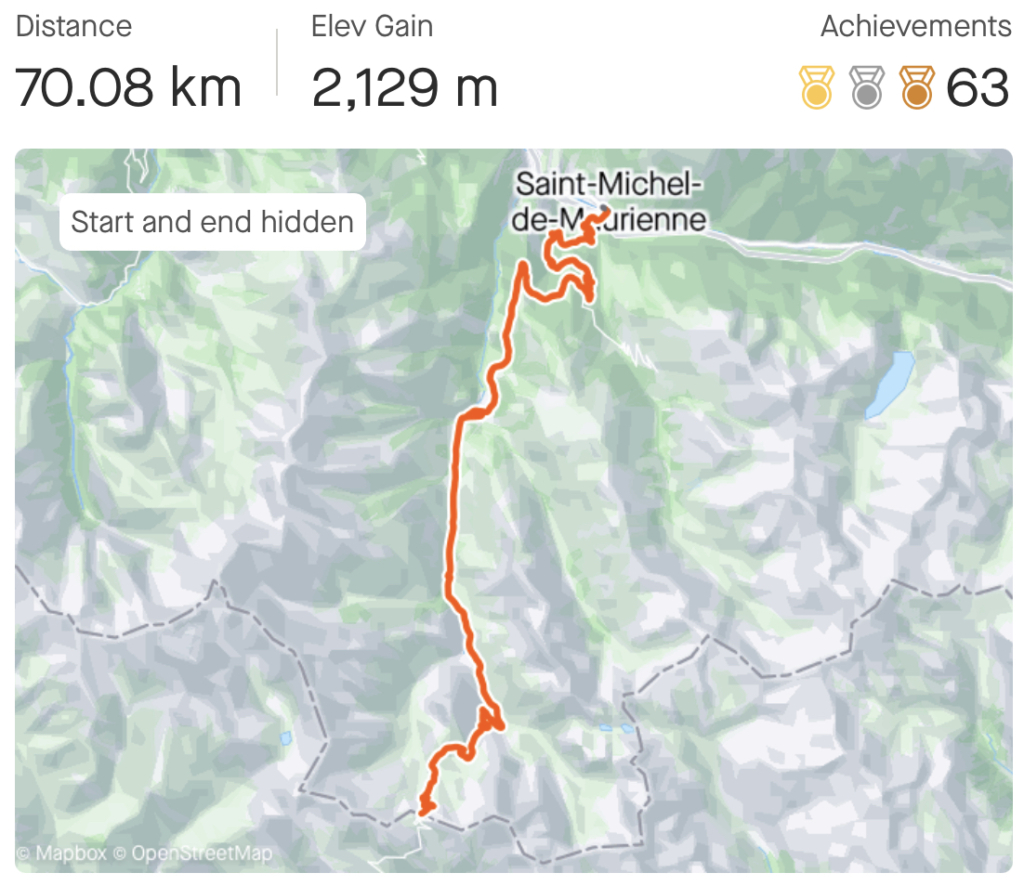 Strava file: https://www.strava.com/activities/9570380921
Given that we were both lacking in the training base department, we'd decided early on in our planning to include a recovery day halfway through our trip.
Natalie had flirted with the idea of spending her rest day riding Col du Galibier from the North side.
Instead, she made the sensible decision to take the day off.
After a late breakfast and consuming a bar of chocolate, I was the one who got a sudden urge of FOMO (fear of missing out). So I decided to jump on my bike and try and beat my previous time up Col du Galibier.
Terrible decision, and good fun, all at once.
Despite producing preposterously low power outputs, I felt faster than ever (due to the sudden lack of 7 extra kilos on my bike). Which made for a fun climb up the 2129 vertical meters to the top of Galibier.
Beat my old time, which was fun – until I realised Romain Bardet has climbed the better part of the col at twice the speed I did. Pro cycling is insane!
Practical tip: Saint-Michel-de-Maurienne is situated smack bang in the middle of a bunch of epic rides, including Col du Galibier, Col de l'Iseran, Lacets de Montvernier, Col de la Madeleine, Col du Glandon and Col de la Croix de Fer. Take your pick! The well-known Gran Fondo race La Marmotte also passes through this village.
Route des Grandes Alpes day 6: Saint-Michel-de-Maurienne to Tignes // 101 km // 2527 vertical meters
Noteworthy pass: Col de l'Iseran (2764m)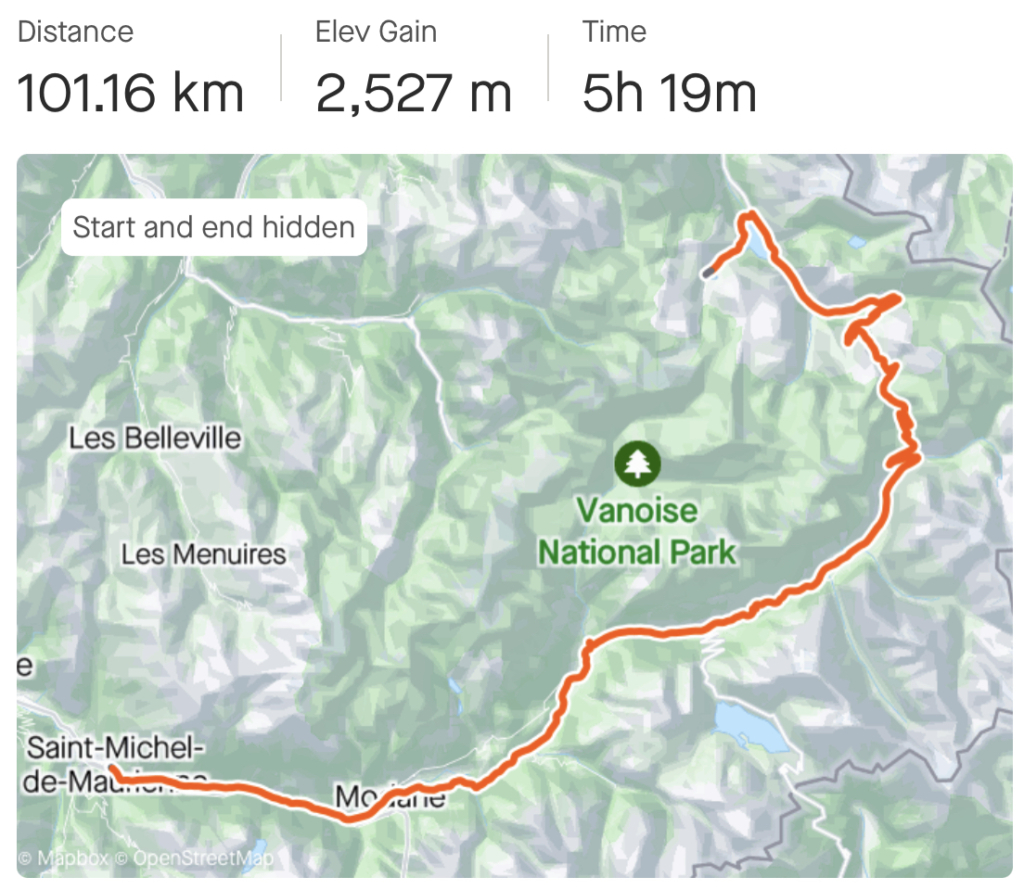 Strava file: https://www.strava.com/activities/9570380921
Energised by our recovery day, we set off for the highest pass of our trip, Col de l'Iseran.
The day started with a properly long transport (60 km) up the valley to the foot of Iseran. We knew that wind direction would be crucial this day. Tailwind would mean we'd fly up the 60 km false flat effortlessly at 20+ km/h. Headwind would be the death of us, and speed cut in half.
Once again, the weather Gods mercifully provided a gentle tailwind.
At this stage, we both started feeling stronger from the past days of climbing. Natalie, who had spent her rest day wisely, most so. But even I, with my stupid climb up Galibier on my rest day was noticeably stronger than the first couple of days.
Col de l'Iseran didn't disappoint.
After scaling the side of the valley above the old village of Bonneval-Sur-Arc, you find yourself on a plateau of green fields, blue streams, cool glaciers and blue sky as far as the eye can see. It's as if someone uploaded the surroundings to Lightroom and pulled the saturation all the way to the right.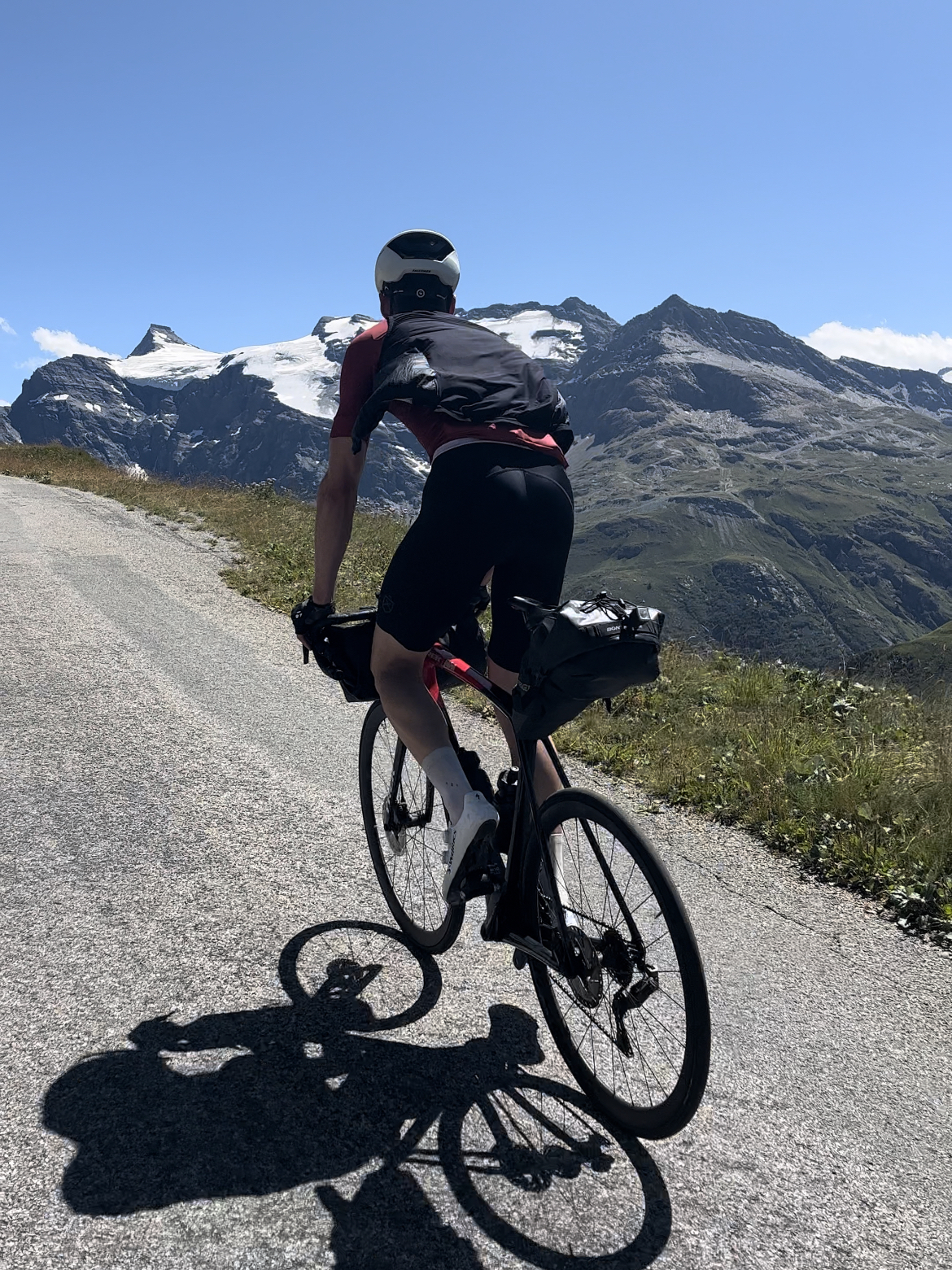 We climbed the reminding kilometers in disbelief, only to have our teeth shattered by the jaw-dropping views of Val-d'Isère coming over the top.
I expected the French Alps to be spectacular, but this surpassed all imagination.
We arrived Tignes in awe. And then quickly began dreading the next morning.
Practical tip: Tignes, the small village in the midst of the ski resorts adjacent Val-d'Isère is packed with activities for all ages: downhill cycling, padle boats on the lake, trampolines, basketball courts, tennis, golf course (though probably not for the avid golfer), waterslides and endless hiking opportunities. Not the worst spot to bring the family.
Route des Grande Alpes day 7: Tignes to La Clusaz // 120 km // 2997 vertical meters
Noteworthy passes: Cormet de Roselend (1967m)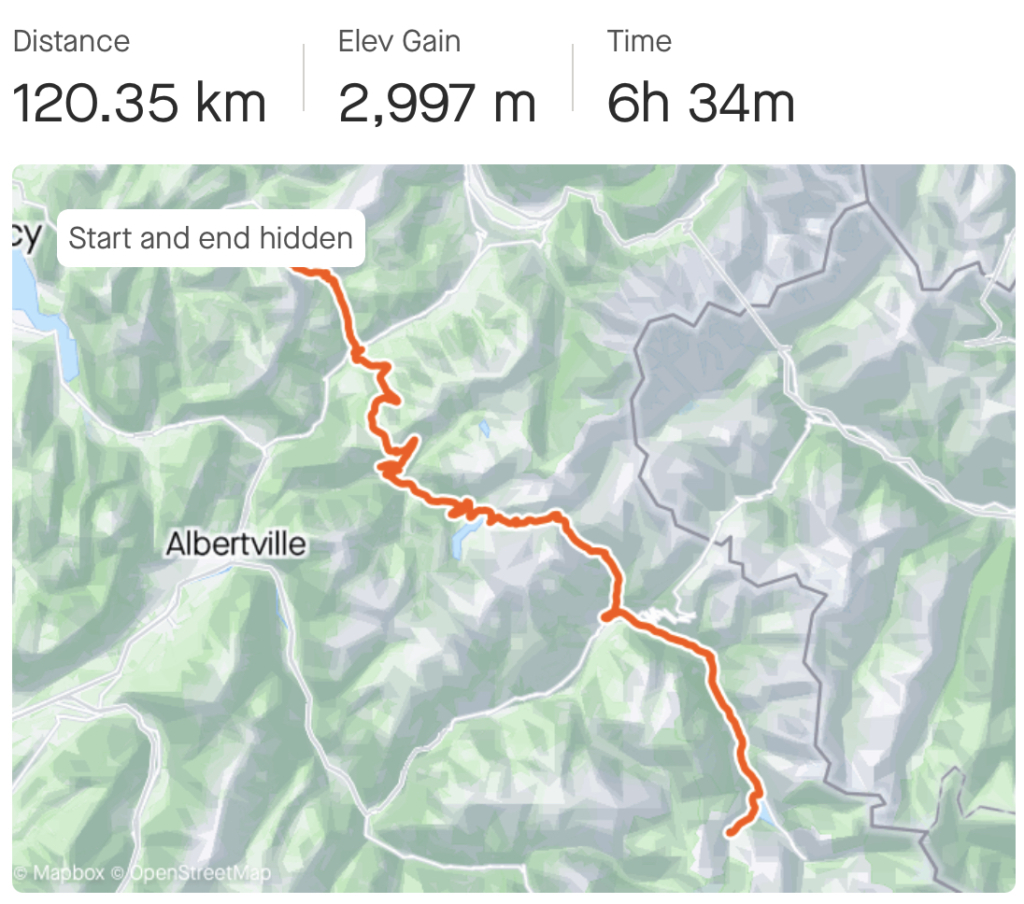 Strava file: https://www.strava.com/activities/9581979966
So far, our journey had been blessed with close to perfect weather.
On day 7, the weather Gods had decided enough is enough.
We started the day on 2100 meter elevation in 4 degrees Celcius and rain. And the first 20 kilometers involved a 900 vertical meter descent.
We instantly regretted having extended this second to last day (in order to arrive in Geneva with more time to pack our bikes the next day). In these conditions, climbing is considerably preferable to going downhill. Fortunately we had enough of that ahead.
Cormet de Roselend was an OK-ish enough climb as far as views are concerned. But it suffered somewhat from the splendor of the cols we had passed the last few days. So when we dropped over the col and glanced at yet more beautiful fields we thought "nice enough, but seen it all before".
Until we turned the corner and caught the first glimps of Lac de Roselend.
"WHAAAAAT!?"
I literally had to remove my sunglasses. But no, the water really was that turquoise. Turns out France had saved a spectacular dessert for last.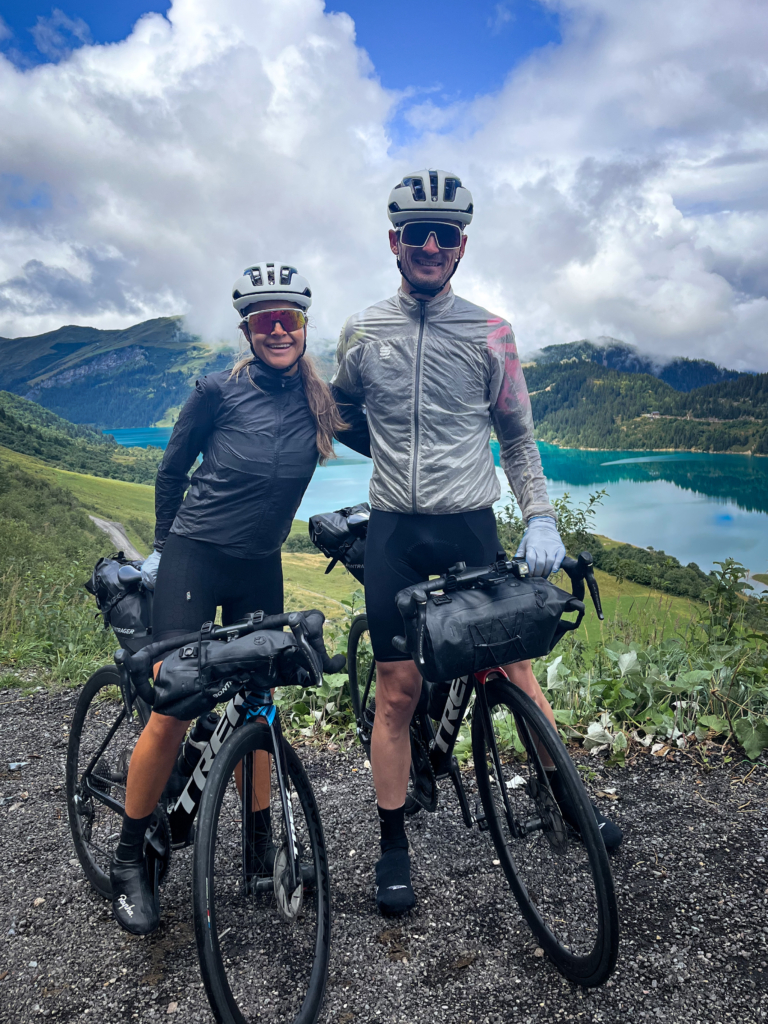 And speaking of spectacular, so was the hamburger in Beaufort. If you go through it, make sure to eat at Restaurant Aléa. Thanks to the waitress who mercifully went out of her way to provide two icicles an indoor table.
After treating our hypothermia it was back into the rain on Col des Saises. Another freezing descent into Flumet. To finish off the day with a final climb to Col des Aravis and yet another cold downhill to La Clusaz.
"YES, they have a city centre! YES, they have restaurants."
Practical tip: It was extremely well anticipated to book our second, and best, hotel on the second to last day of the trip. The sauna and swimming pool was well worth the condescending looks we got when rocking up in the lobby as two wet dogs off the street.
Route des Grande Alpes day 8: La Clusaz to Geneva // 71 km // 862 vertical meters
Noteworthy passes: Col de la Colombière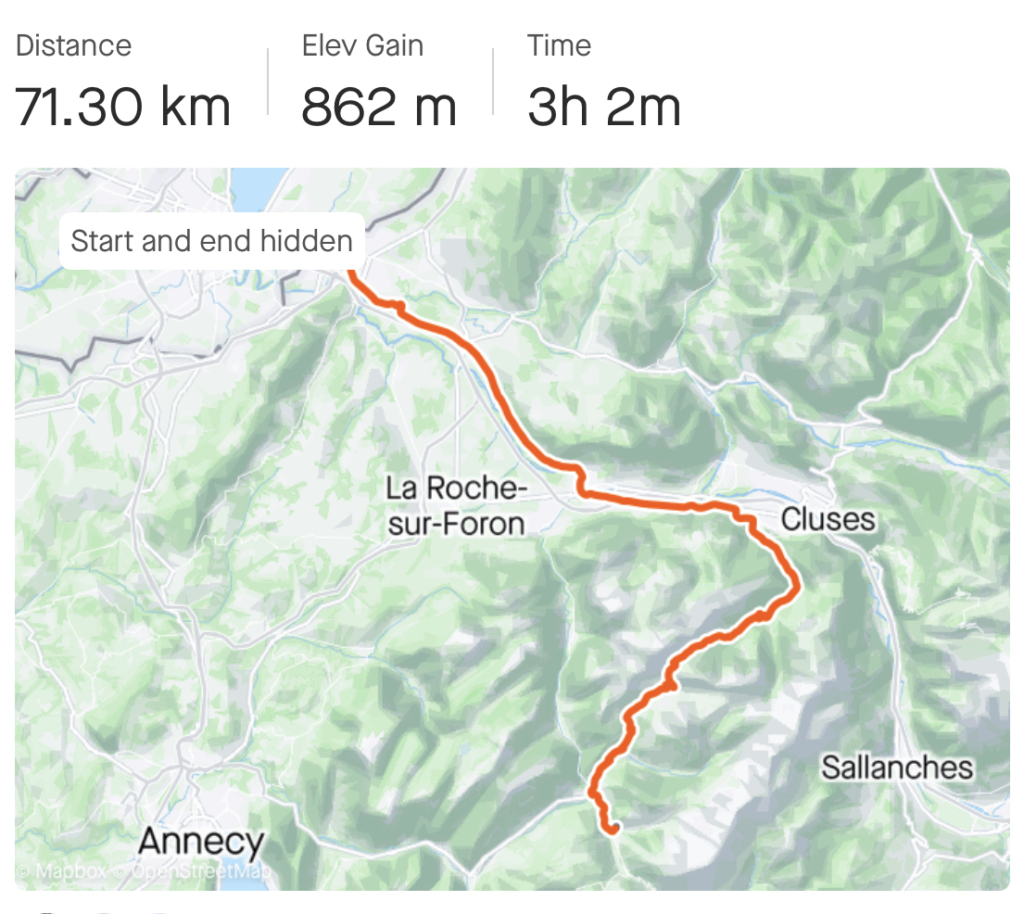 Strava file: https://www.strava.com/activities/9586430662
Our final day on the road. And the final Tour de France pass, Col de la Colombière. Which was quite the gentle climb coming from the south. Far less so from the opposite side, judging by the faces of the cyclists we passed on our descent.
The final 40 kilometers into Geneva were surprisingly long for one of us. Natalie, who had dropped me climbing up Colombière was looking stronger than ever. Whereas I was disintegrating in rapid fashion.
I told myself it was the lack of rest on our recovery day. Which probably contributed. But I was also surprisingly cold this day, despite the weather being good.
A few days later I would learn that I'd dropped a good 2 kg during our trip. Despite being in the lower range of my habitual weight prior to departure. So despite eating big lunches and dinners, and a lot of snacking, I obviously didn't consume enough calories.
We arrived in Geneva an hour past mid day. Following a quick stop at our hotel we went straight to Velomania where Anthony and Alexandre waited for us, bike boxes, wrapping and coffee on the ready. I will be eternally grateful for their hospitality (and for saving me to run around the city for random bits of cardboard and bubble wrapping). Let us know if you ever come to Norway!
What you need to know if you're considering riding through the French Alps
In summary, here is what I'm taking away from our 8 day adventour. And what you may consider when planning your trip.
Planning:
1 | Don't overthink it – just book the trip. You will figure out the details as you go (we booked ours less than 2 weeks in advance).
2 | Airbnbs work very well for accommodation. Often works out cheaper, with more space, more easy bike storage and laundry possibilities than many hotels.
3 | You can survive on a surprisingly small volume of baggage. For us, 9+9 liters per person was more than sufficient.
4 | Bring enough layers for bad weather at high altitude (it gets properly cold). We hit the spot pretty well with our packing list, but with more rainy days, some extra legs and a few extra shifts would have been good (which we did have the room to bring).
5 | Stay close to the airports the night of arrival and flying back, as you will need to haul your bikes to and from airport.
The route:
1 | You can safely follow the Route des Grandes Alpes. Either way will provide extraordinary terrain and views.
2 | We had the best experiences when effective riding time was around 5-6 hours per day. For us, this equated to about 90 km and 2500 vertical meters. This allowed for time to stop and take in cool villages and places, as well as reaching your destination with enough time for a proper dinner and winding down before going to bed. More than 6 effective hours of riding quickly resulted in a hectic evening.
3 | Consider spending a day without riding mid-way. To rest your body, but also to re-gain your mental enthusiasm for the final half of the trip.
4 | Plan for potential lunch sites the day ahead of each stage. So that you don't pass them all and get stuck without lunch.
5 | Eat more than you think you need!
The equipment:
1 | Test-run any new equipment before you depart from home. We had an issue with one handlebar bag that didn't fit the bike size (dragged on the front wheel), which we sorted out with packing and strapping it tighter.
2 | Be prepared to improvise (see point 1)
3 | Bring required tools to be self-sustained if mechanical break-down. There are many bike shops along the way, but they are very scarce along this route between Nice and Barcelonette (day 1 and 3 of our trip).
4 | Use water-proof bags. You will get some precipitation. We found that 18 liters per person was sufficient, with a little room to spare.
5 | Some stages towards the south don't have a lot of restaurants (and they're not always open). Be prepared to carry extra food and snacks from a grocery store – the musette feed bag over your shoulder is golden for this purpose.
6 | Bring extra power adaptors for all the electronic gadgets you need to recharge (lights x 2, phone, Garmin, gears etc.)
7 | Most underrated comfort to stay warm (in my humble opinion) is a pair of thin woolen gloves and latex gloves on top to break the wind
8 | Bring enough gears. I rode a 50/34 front and 32/11 cassette setup, whereas Natalie had the same, but with a smaller inner ring in the front (I think 32). This was manageable, even though a lighter gear or two would have been more comfortable (and induce less forced torques).
With all that being said, I wish you the best of luck with your bikepacking adventour.