12 weeks into my training for Haute Route Alps I have:
encountered my first problems
figured out how to fix them
developed something of a baseline
made some progress (re-tested capacity)
This post takes you through my initial challenges, how I solved them and evaluates my progress so far.
Problem 1 – poor muscular load tolerance
The very first challenge I encountered shortly after training startup was the mismatch between my mental and muscular capacity.
My head tends to forget than I am no longer 18 year of age training 10 sessions per week.
This quickly becomes a problem when doing interval training on a poor training base.
I have been outspoken in the past in promoting the benefits of high intensity interval training, even early on in base training. This is a recommendation also shared in training resources developed by some of the finest and most accomplished cycling coaches and sport scientists.
However, the pitfall in doing high intensity intervals with a poor training base is that your muscles cannot cope with the same same beating the can when being properly fit.
This is something I have experienced year after year. However, my foolish eagerness I tend to forget. So I try and execute the intervals to the same degree of exhaustion as when being fit.
As a result, my legs end up being sore and battered in such a way that recovery requires an unreasonable amount of time.
This was certainly the case in December.
Solution 1 – dicipline
The solution to the problem of poor muscular "robustness" is simple enough.
Discipline.
More precisely, performing your intervals at a slightly lower intensity. So that your end-of-session exhaustion is somewhat less dire.
Surely, you won't get your heart rate equally high.
Indeed, your total training stimulus from that session may be a tad bit lower.
However, if this is what it takes to allow the next interval to come in 3-4 days instead of 6-7 days, I would suggest the reduced intensity is a worthwhile investment.
Problem 2 – illness
3 weeks into my training I came down with a throat infection.
Whenever this happens to me, I know it is usually a matter of being away from training 7-14 days.
This time around, more time was required.
I did everything by the book. Slept, hydrated, rested and allowed several days upon feeling symptom free before training. Apart from having to go to work, I could not have managed it better.
Still, upon feeling ready to start training I fell sick again. Same symptoms that felt precisely like a relapse. Except for no apparent reason (I hadn't been training).
Most likely a super-infection, in which an opportunistic virus takes advantage of my already suppressed immune system, and kicking into action just as I am starting to feel better.
Fortunately, this second round of illness was a blessing in disguise.
Went to see my GP to get a note for sick leave and without thinking much of it did some blood tests. Turns out I was low in folate. Which really is not a great idea when trying to become a stronger endurance athlete.
For all I know I could have been low for ages. So at least now I knew, and was able to do something about it.
Solution 2 – time and zen
Falling ill never fits with a training plan.
But when you do, the best thing you can do is to not worry about it. Rest up, follow whatever sound advice you can to speed up the process of healing, and then let everything run its course.
I was out for 3.5 weeks.
In other words, pretty much back to square one.
Re-testing 1 – have I progressed?
January 16th was my first careful test of my throat since my last workout December 22nd.
One month and six interval sessions later I re-did my indoor 40 min FTP test.
It was a fairly good test with decent pacing. I felt I lacked those final 1-2 percent of mental toughness to dig properly deep the final 20 minutes. Still, I was reasonably satisfied with the execution.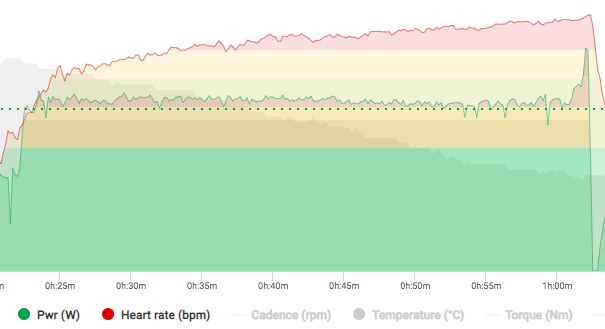 My new test showed a 40 minute average of 320 watt. With a body weight of 86 kg, this was a 15W and 5% improvement in absolute power.
Body to weight ratio increased from 3.50 to 3.72, an improvement of 6%. This is explained by my body weight dropping a kilogram since my baseline test.
320 watt was below what I was hoping for in February. However, if you look at my training hours (and lack thereof in Christmas and New years) it is still fairly on par with what you could have expected.
Re-testing 2 – have I progressed in other areas?
One week after my FTP40 I repeated my 5 minute all out test, also known as VO2 max watt.
Due to the exceptionally snow-free Norwegian winter of 2020, I was able to conduct my test outdoors.
This re-test was a spur of the moment decision, coming off of an 18 hour night shift with 4 hours of sleep the last night.
With what can only be called sub-par preparations, I was quite satisfied with my new 5 min average of 430 watt.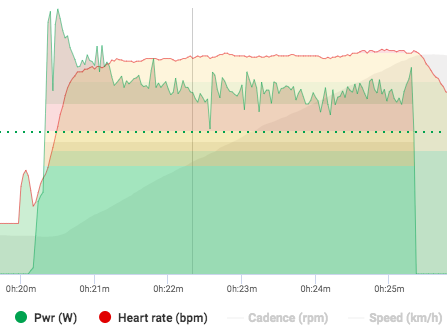 This was an increase of 27 W off of my December (indoor) test of 403 W. Power to weight ratio at the 5 minute duration was now 5.06 W/kg, an increase of 9% on my previous recording of 4.63.
6 months to go – am I on track?
With 3 out of 9 months of training completed, I am somewhat behind where I was hoping to be where it comes to absolute power.
However, I am quite satisfied with having these power values while having hardly tapped into proper interval training (or serious training volumes) yet.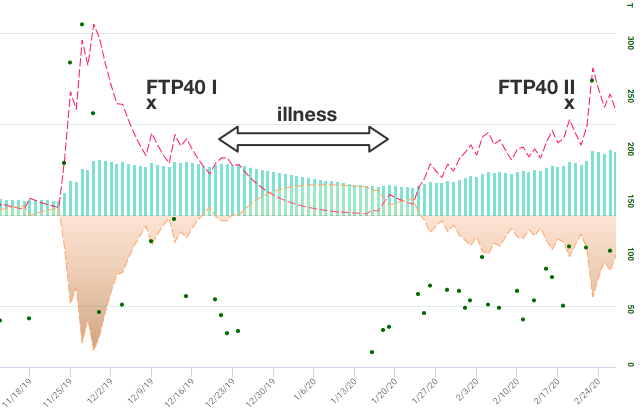 With outdoor season and much bigger training volumes knocking on the door, I know from experience that my performance should take a considerable jump in the next few months to come.
The biggest challenge to come is to stay clear of illness and injuries. In other words, not getting overly excited, but keep churning out basic sessions with strong consistency.
I still need a much stronger base until I can boast the really hard and impressive sessions.
Keep it simple, stupid!
Want to follow my preparations for Haute Route in closer detail?
Look me up on instagram for more sessions, workouts and data.