In the previous lesson, we reviewed the research underpinning the polarized training model as a versatile and effective tool for cyclists across different performance levels.
Indeed, the main goal of this course is to teach you how to make use of polarized training to achieve both short and long term performance enhancement.
However, in order to successfully harvest continuous performance gains with any training model you need to understand an important concept.
The concept of training load.
Why training load matters
Training load is perhaps the single training metric that will have the biggest impact on your development.
As such, it is important that you understand the relationship between training load and endurance capacity.
Training load can be simply explained as the product how how much and how hard you train. In very general terms, the more training hours you throw down per month, the higher the training load.
Similarly, the higher the workout intensity, the higher the training load.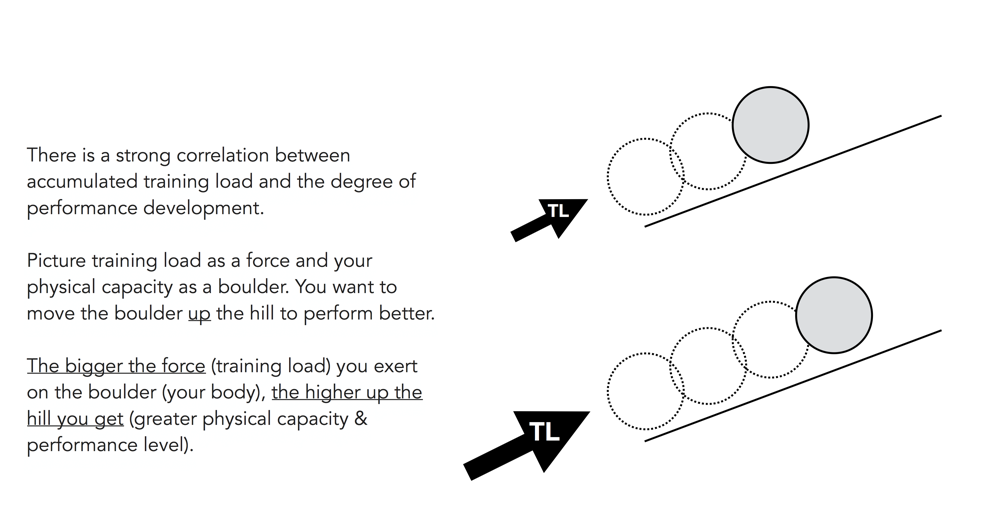 Anecdotally, there is ample evidence to suggest a strong relationship between training load and performance level. Experience suggests it requires approximately 10 000 hours of structured training to produce a podium finish in international championships (1).
The relationship between training load and performance is neatly illustrated in the below study on the development of professional road cyclists Thibaut Pinot (2).
A six-year monitoring case study of a top-10 cycling Grand Tour finisher
In 2012, Thibaut Pinot became one of the youngest riders to finish top-10 in the general classification of the Tour de France. The following study reports on his training and development of physical capacity and performance over a six-year period prior to this extraordinary feat.
The illustration below demonstrates Pinot's yearly training load and training hours leading into his first two top-10 TdFs.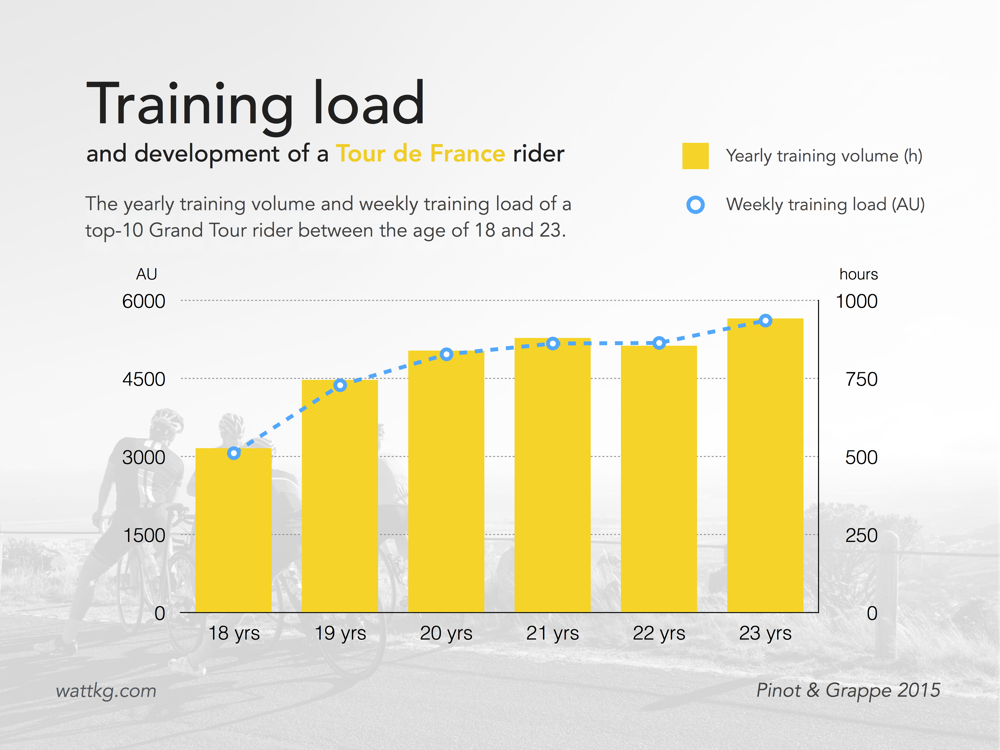 The graph depicts how Pinot's training load increased progressively during his development from junior and throughout his U23 years.
You will notice that training load and training volume follow each other closely. My interpretation is that this suggests distribution of training intensity was kept fairly constant.
The following graph illustrates the development of Pinot's performance level in the same time period.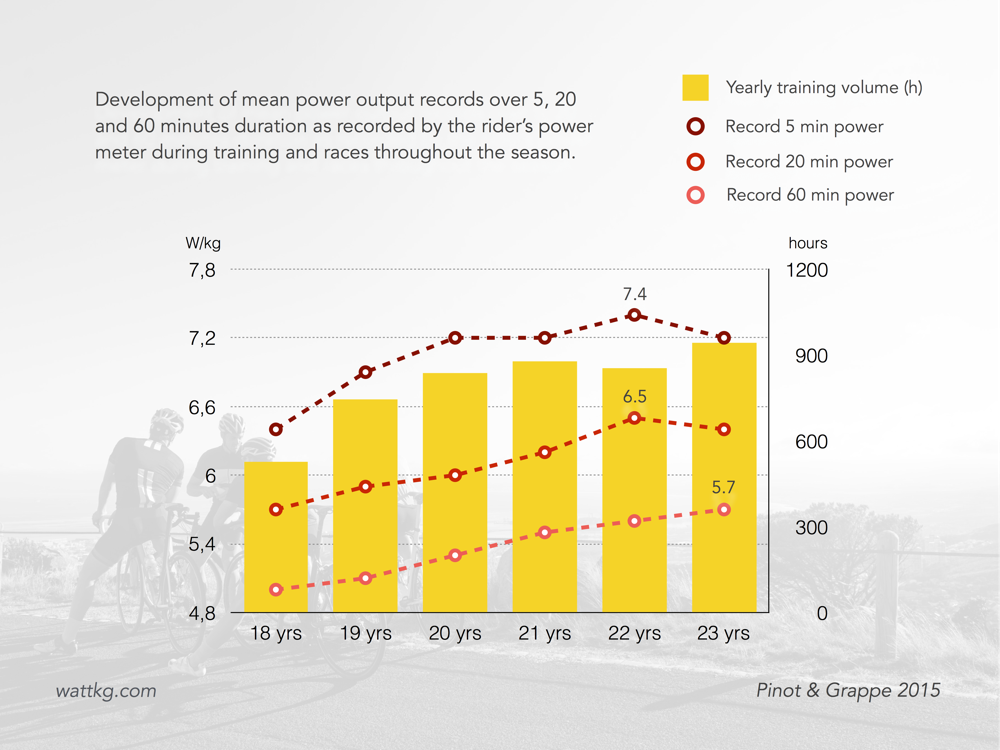 As you can see, the record power outputs appear to follow his training volume fairly closely. This is not surprising, given the well established association between training load and performance level.
In their conclusion, the authors of the Pinot study states:
…increases in the training load, monotony and strain from the junior category to the world-class level were significantly correlated with improvement in the aerobic potential of the cyclist.
– Pinot & Grappe, Journal of Sports Sciences 2015
In other words, it is fair to assume his increased training load played a key role in his development.
This is why understanding the concept of training load is essential to taking charge of your development as a cyclist. I would in fact suggest that, along with ensuring consistency in your training, monitoring and controlling your training load is the most important factor that will help you progress.
The most basic practical application of the concept of training load is this:
To develop greater endurance capacity, you need to gradually increase your training load.
So, how do you go about doing this?
Intensity matters to training load
For starters, we need to make one important distinction.
In the case of Thibaut Pinot we saw that training volume (hours) and training load followed each other almost to a tee. However, that is not always the case.
Different training intensities impacts training load differently. The general rule being that the higher the training intensity, the greater the training load.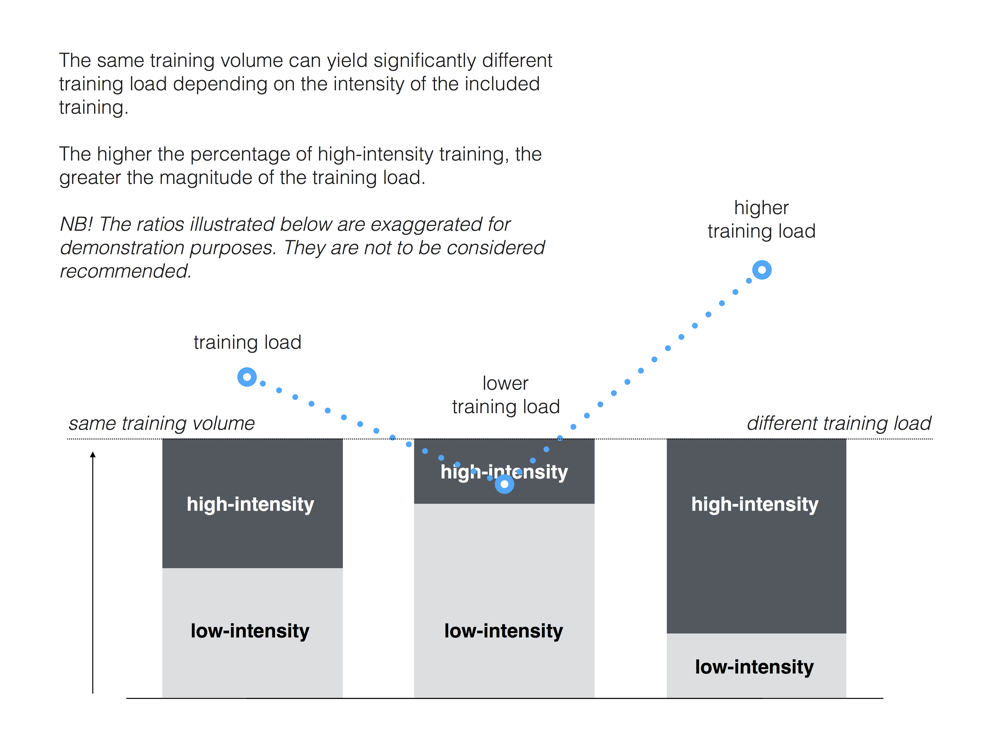 The practical consequence of the above is that you can manipulate your monthly training load by:
Changing your training volume (hours)
Changing your training intensity distribution
If you want bigger training load, you can add time on either low intensity or high intensity. The latter of the two will result in the biggest increase in load.
Vice versa, when you need to decrease your training load you can strip away time from you low intensity or high intensity training. Again, removing high-intensity training would result in the biggest decrease in training load.
Let us look at how this understanding comes in handy in two practical scenarios.
Two scenarios where understanding training load might help you optimize your training
Scenario 1: Pressed for time
You have been training well all winter and have achieved a solid capacity lift the last 6 months. You got a big race coming up in 5 weeks, which fits terribly with having to complete a major work project over the course of the next month. You know you won't have time for your regular number of workouts, and you worry you'll lose some of that hard earned capacity.
In this scenario, the chances of losing endurance capacity due to de-training is very real. In order to preserve your physical capacity, you would aim to maintain as much of your training load as you possibly can.
With little time for training (low volume), you could try to compensate by focusing your workouts around high-intensity intervals (high load per session).
Scenario 2: Training camp
You have been training throughout the winter, but your monthly training load has been fairly low. In one week you're going to Gran Canaria for a 10 day training camp. You're looking forward to finally riding in sun again, and want to get in as many great rides as you possibly can. You are a bit concerned as you have previously experienced overreaching and ruined big parts of your season following similar training camps.
When you want to train a lot more than your usual volume, it would make sense to compensate by reducing training intensity. Normally, it would make sense to keep the greater majority of rides low-intensity. And possibly include one (or two) shorter high-intensity sessions for the sole purpose of maintaining that ability throughout your camp.
This scenario could probably be solved in different ways. The main idea is that you need to compensate for the high volume by reducing the volume of high-intensity work (compared to your normal intensity distribution)
What should your training load development look like?
Long-term periodisation seems to be an eternal topic of discussion. Unfortunately, there is little research available to guide us in the search for an "optimal" distribution of training load on a month to month basis.
However, in the spirit of keeping things "simple stupid", we can suggest that your mean curve of training load should look like that of Thibaut Pinot – demonstrating a gradual increase over time.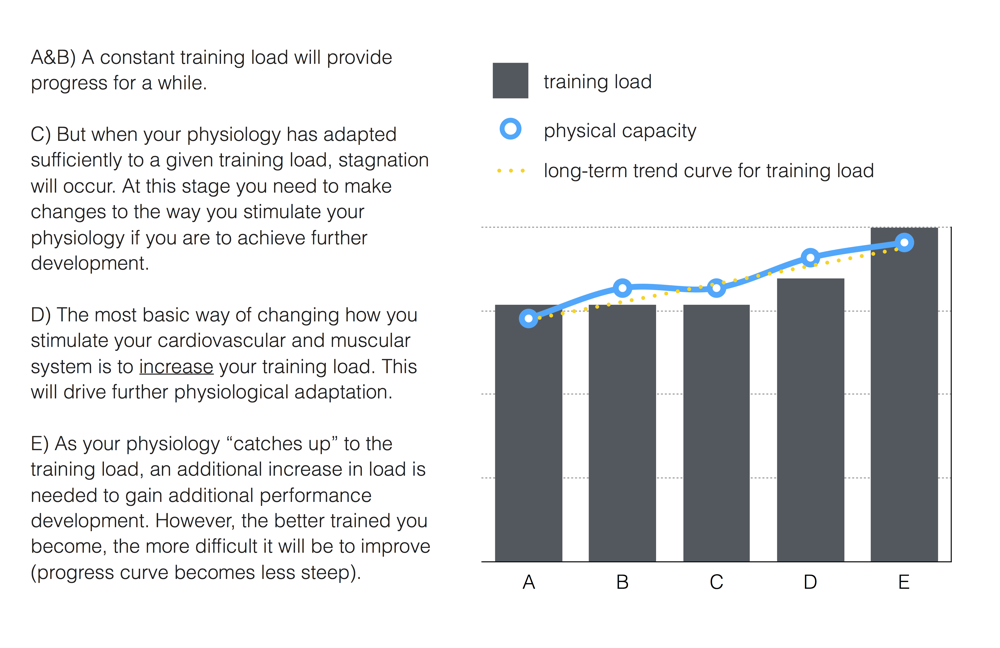 A gradual increase in training load will ensure additional training stimulus to gradually nudge your endurance capacity to higher levels. How to best achieve the added training load will then depend on numerous factors, such as:
your current fitness level and training volume
your ability to cope with added high-intensity work
your weekly schedule (off-training, is there room for more training hours?)
There will be further discussions on how to manipulate training load in the coming lessons of this course.
Take-away-points on training load
Too many riders eagerly micromanage minute details of their training without controlling their training load well.
Which is just like putting the cart in front of the horse. You're starting in the wrong end.
The road to great training results always begins with doing the basics really well. That is why you should always mind your training load and control it to achieve…
…a gradual increase in training load.
A gradual increase in training load over time is main premise for continuous endurance capacity development. 
References:
Tønnessen E. Hvordan trener verdens beste utholdenhetsutøvere, og hva kan vi lære av dem? Fagartikler Utholdenhet. Olympiatoppen.no
Pinot J og Grappe F. A six-year monitoring case study of a top-10 cycling Grand Tour finisher. Journal of Sports Sciences, 2015; 33(9); 907-914