In the previous lesson, we introduced the concept of training load. We also demonstrated how development of endurance capacity is closely associated with the magnitude of training stimuli you exert on your body.
In this lesson, we are going to get more refined.
As you can imagine, there are an infinite number of different workouts and ways of scheduling your training that could lead to the same total training load.
Although we emphasise the importance of total training load, here is another fundamental premise of training:
Two training programs with similar training loads can have dramatically different effect on performance.
Not only does it matter how much you stimulate your body over time. It also matters how that stimuli is scheduled within a given period of training.
This is where we bring the polarized training model back into play.
Greater improvement despite smaller training load
In lesson 1 we discussed the study by Neal and colleagues who compared the results of polarized and threshold training in amateur cyclists (1).
Over the course of the 6 week training period, the polarized group achieved significantly better performance development despite taking on a slightly smaller training load (517 in polarized group vs. 633 in threshold group).
This illustrates that physical development depends not only on total training load, but also on how this load is distributed across different intensities.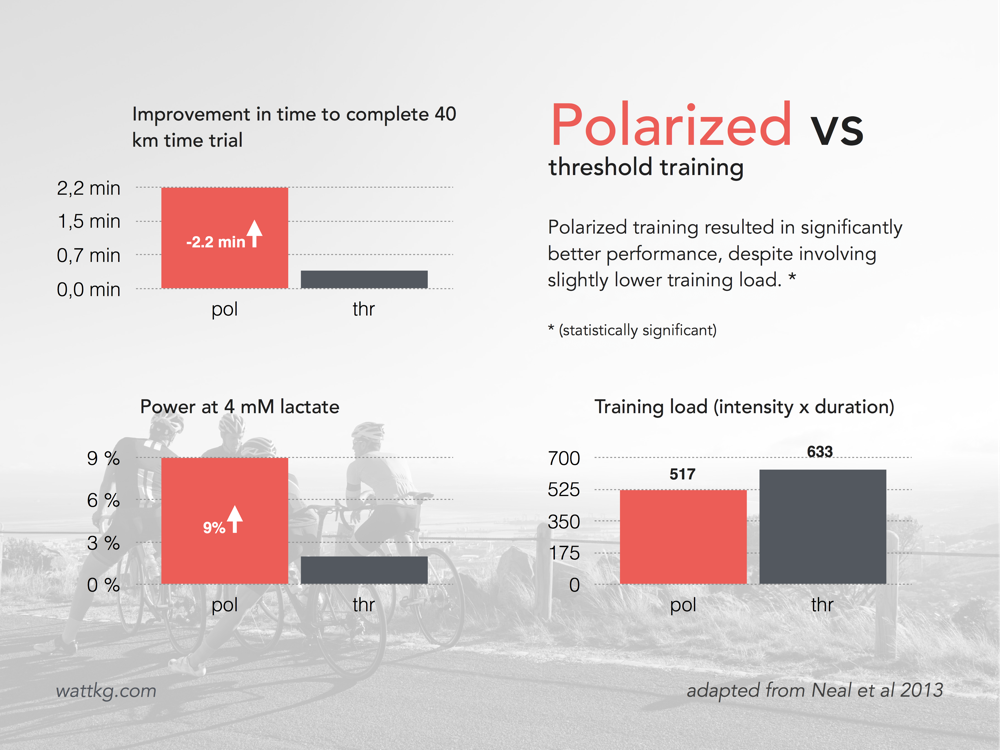 Advanced discussion: A pertinent question here is whether the threshold group trained so much that they went into overreaching. I deem that unlikely since their training volume was well within the range of their their usual training.
Likewise, you could wonder if the lower training load in the polarized group worked like a taper, and that the superior results were simply due to a resulting short-term spike in fitness. I would argue this could be expected to occur over the time of 2, and perhaps up to 3 or 4 weeks. However, 6 weeks is such a long period that if an initial performance boost were to occur from lower training loads, I would expect it to wear off and result in declining capacity by the end of a 6 week period.
Let us have a closer look at how you can apply the polarized model in your day-to-day training.
The 3 week polarized cycle
In this course we will be using the 3 week polarized cycle described by Stöggl and Sperlich (2). This consists of two weeks of high training loads followed by a recovery week with considerably lower load.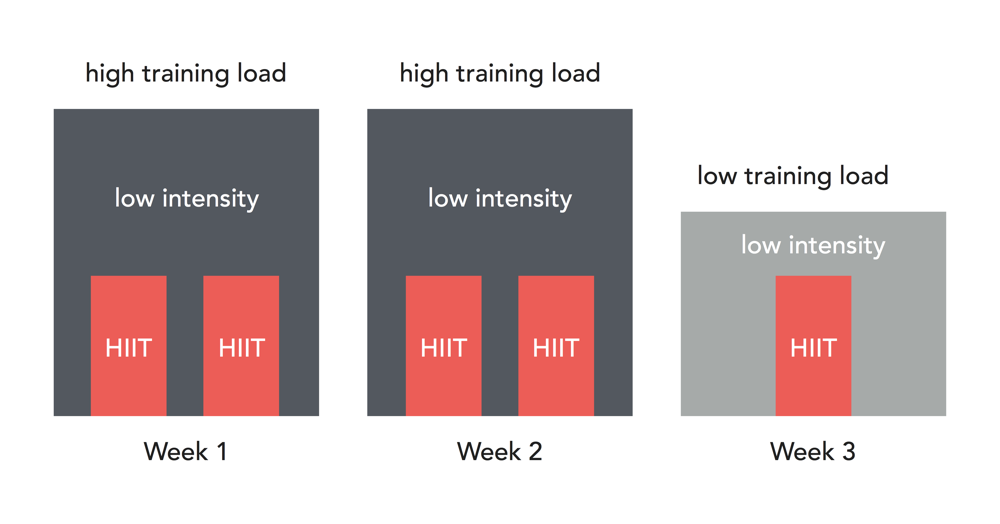 Week 1 and 2 are made up of two weekly high-intensity interval sessions, interspersed with multiple easy rides at low intensity. The aim is to induce significant training stimuli to drive cardiovascular and local neuromuscular adaptation.
In contrast, week 3 contains one high-intensity interval only. Furthermore, the duration of low-intensity training is also reduced. This allows for recovery and adaptation to the former high-load weeks.
Such organisation of training load in a 2:1 high-to-low manner is quite common practice (anecdotal experience). It also yielded good results when applied to a polarized intensity model in the aforementioned study by Stöggl and Sperlich (2).
Your training base and current fitness level will decide how big of a training load you can take on. It is therefor important that you adjust the magnitude of the training load to fit your background. Finding the right balance might require some trial and error. Until you have gained sufficient experience to know how much training load you can handle, I would advice staying somewhat on the conservative side in your high-load weeks. *
* We elaborate on how to go about this experiment in the 9 week training plan included in this course.
What training to include in your high- and low-load weeks
In theory, your high-volume weeks could include any training modality that fits the physiological property you would like to improve.
However, since we are adopting a polarized training model the focus of the high-load weeks will be high-intensity interval training.
The original paper by Stöggl and Sperlich used 4×4 intervals only (2). However, as previously discussed here and here, 30/15 intervals and 4×8 intervals are reported to yield greater performance gains when compared to either 4×4 or 4×5 intervals.
While still considered high-intensity training, the 4×8 and 30/15 interval formats take place in opposite extremes of the high intensity range. This allows for training stimulus bordering on anaerobic work (30/15) as well as borderline threshold training (4×8).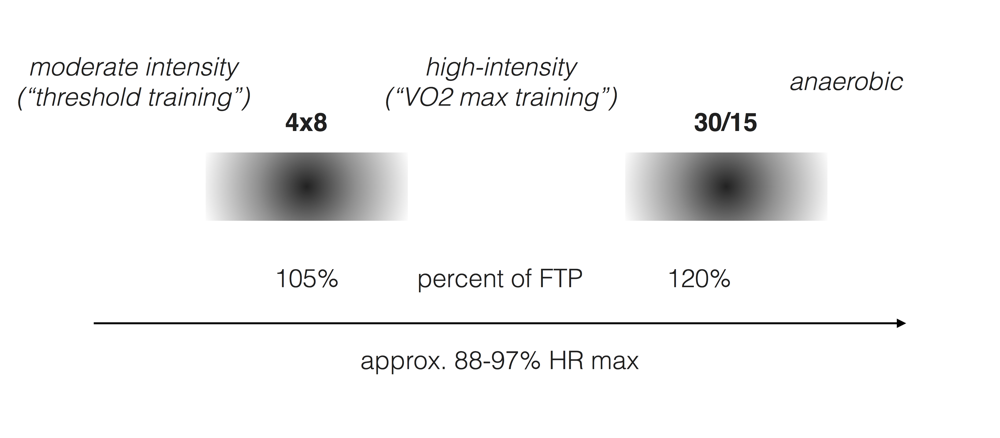 I have now seen some thousand cyclists go through the training plan included in this course, with consistently solid performance gains.
I hypothesise that the alternating use of 30/15 and 4×8 intervals might provide greater "coverage" of training stimuli to a bigger range of muscle fiber types than 4×4 intervals only. However, I would highlight that this remains speculation only.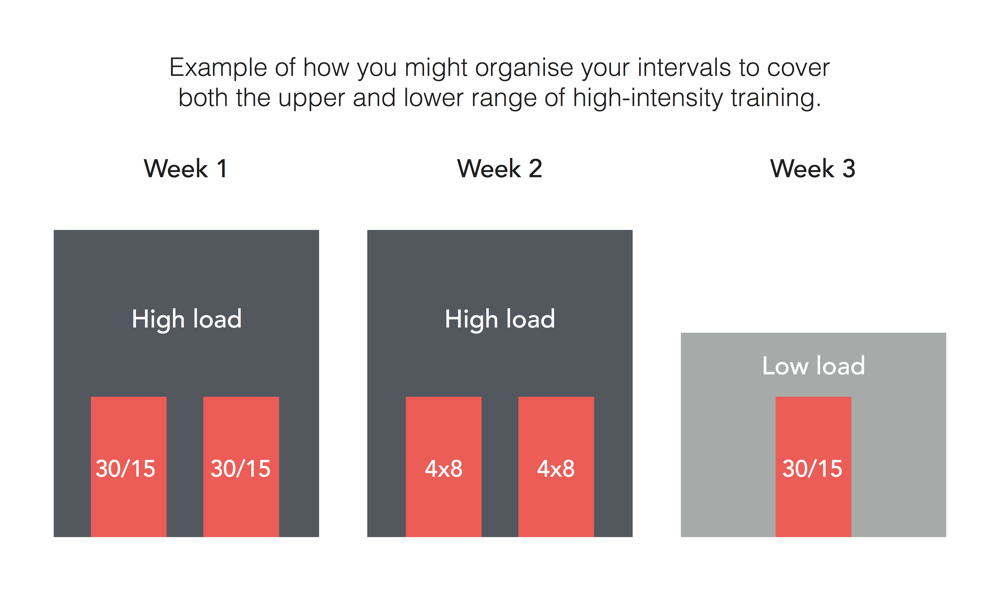 How to stimulate progress by increasing training load between cycles
The 9 week polarized training plan that comes with this course is made up of three 3 week cycles. Each cycle contains increasingly higher training loads than the previous one.
There are two main ways by which we increase training load in this plan:
Extending the duration of high-intensity work per session
Increasing the volume of low-intensity work (total training hours)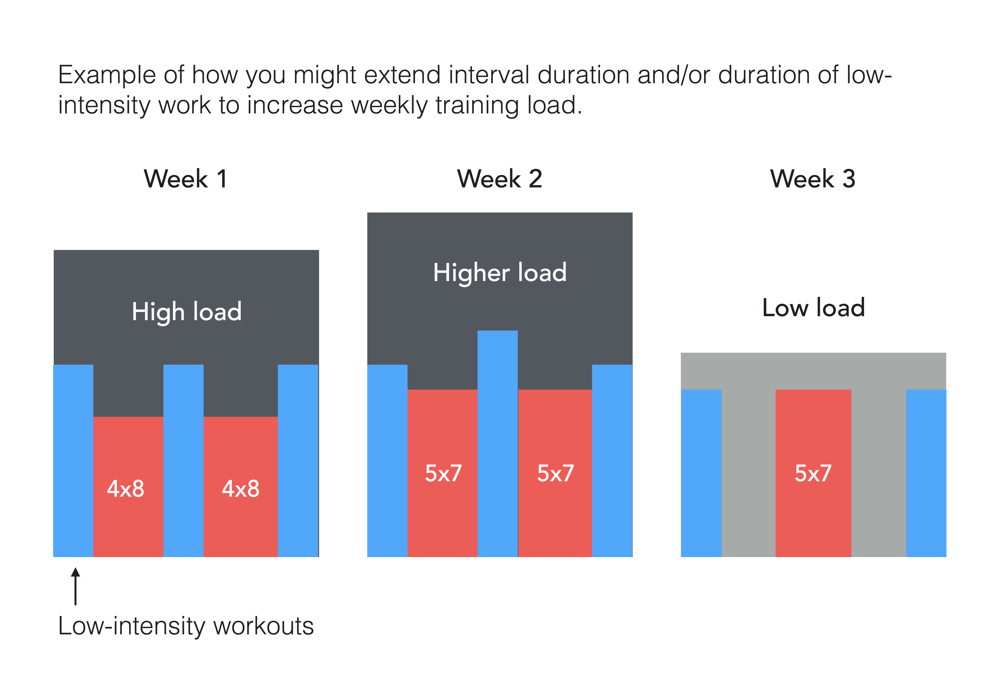 Extending the total duration of work at interval intensity can be achieved in one of two ways.
A slight increase in duration of each interval bout will allow a longer total effort at approximately the same intensity. E.g., in the 250 plan load increase is achieved by extending intervals from 4×6 min, to 4×7 min and finally to 4×8 min (24 versus 28 versus 32 min total work duration).
Similarly, time at high-intensity is increased in the 400 plan by adding an additional interval bout. E.g. from 4×8 min, to 5×7 min and finally 5×8 min (32 versus 35 versus 40 minute total work duration).
Additionally, training load is increased by slightly extending the duration of low-intensity rides. This will normally represent a lesser magnitude of load increase when compared to extending interval duration. Therefore it is usually more easily tolerated than extending interval duration.
Using the 3 week cycle throughout your season
The training plans included in this course are designed to be used either as continuous 9 week plans, or as stand-alone 3 week cycles.
You should note that I have added additional increases in training load for each 3 week cycle compared to the plan described in the original study of Stöggl and Sperlich. It is therefor imperative that you feel fully rested and well recovered at the end of each recovery week, before you consider moving on to the next 3 week cycle. Detailed instructions in this regard are included in each plan.
If the increases in training load from one cycle to the next appear too steep, you might want to continue training at your current level for additional weeks/months before increasing your load. E.g. you could repeat the same 3 week cycle over again, or opt for additional training weeks of your own choosing.
When executed correctly, this should allow your body to adapt to your current load. Once sufficiently prepared, you then move on the next polarized 3 week cycle.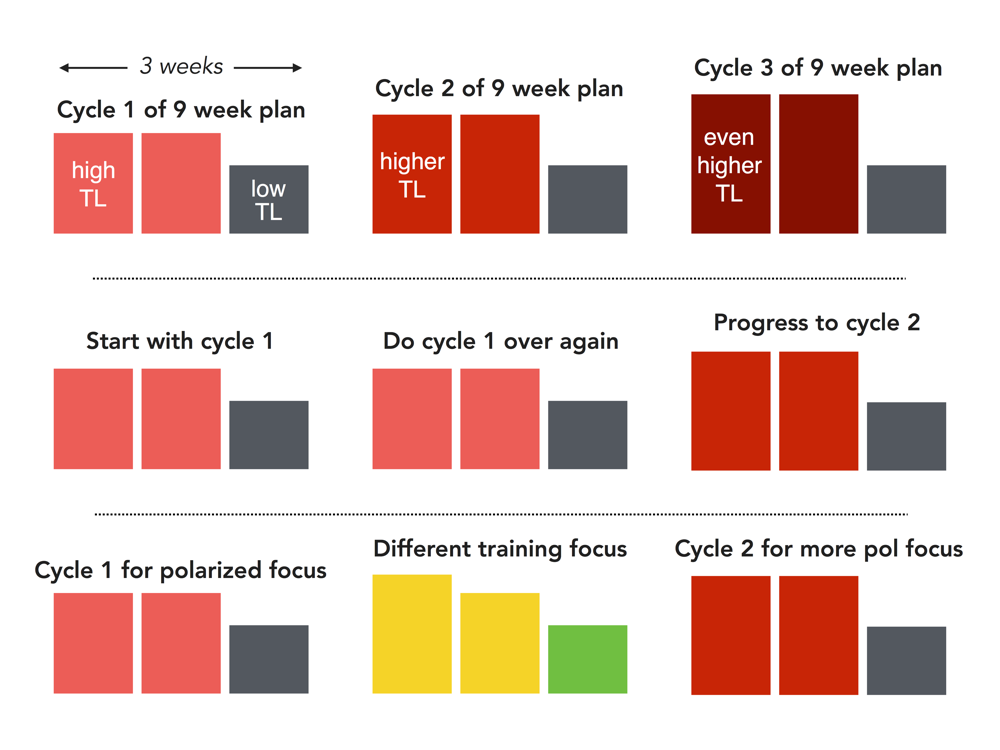 Alternatively, you could choose to use the 3 week cycles as stand-alone "blocks" of polarized training, without making it the general theme of your training. These could be included in your training at a regular basis throughout the year to "cover" a minimum of high-intensity training.
The main idea remains that the longer into your training year, the higher load your 3 week cycle should contain in order to stimulate further fitness development.
What time of the season should you consider the 3 week polarized cycle?
I would suggest such a 3 week polarized cycle could be successfully applied on a regular basis throughout the majority of the training year.
As a general rule, following a post-season break usually requires an initial period of getting used to normal training loads again. During these weeks (month(s)), you may opt for easing back into it with a combination of low-intensity workouts and more gentle threshold intervals.
However, once that initial adaptation to regular training loads is aquired, I would suggest you could quickly start making use of the polarized model. The main principles remain that the duration of total effort is shorter early on in your base training (when capacity & fitness is lower), and longer during your pre-season build up, as well in between-race training periods.
Take-away-points from the 3 week polarized cycle
Whether you decide to use our polarized model as a 9 week plan or stand-alone 3 week cycles, the main take-away-points are as follows.
1) Training load is periodised into a weekly high-high-low pattern.
2) We use a combination of long and short intervals to cover both ends of the high-intensity work range.
3) We gradually increase training load per 3 week cycle
In the next and final lesson of this series, we summarise what you have learnt and review how the polarized model fits into the big picture of cycling and endurance training.
References:
Neal CM et al. Six weeks of a polarized training-intensity distribution leads to greater physiological and performance adaptations than a threshold model in trained cyclists. Journal of Applied Physiology, 2013;114:461-471
Stöggl T and Sperlich B. Polarized training has greater impact on key endurance variables that threshold, high intensity, or high volume training. Frontiers in Physiology, 2014;5:33