One of the most difficult conundrums for cyclists is the question of how to organise your training for maximal results.
What training will give me the biggest possible power to weight ratio?
The pressing nature of this problem is increased by the fact that many of us have a limited amount of weekly hours we can allocated to training. As such, you want to avoid wasting your precious time on inferior training methods.
You probably won't be surprise if I suggest the above question is too complex for there to be a one-size-fits-all solution. However, we are not going to leave it at that.
This lesson is the first of five in which we attempt to use exercise science to simplify the answer to the question of how to organise your training.
For starters, there is growing evidence that polarized training could form a central element in the training of the greater majority of cyclists.
Let us review why you should consider adopting the polarized model to your training.
What is polarized training?
The name itself gives it away.
Polarized training involves workouts that are focused in either ends of the intensity scale. That is low-intensity training and high-intensity training, with none or little time spent on moderate intensity ("threshold training") (1).
The polarized training model has specific high-intensity workouts separated by one or more long slow distance workouts, with the exercise intensity tightly controlled.
– Hydren & Cohen, Journal of Strength and Conditioning Research 2015
In short, polarized training involves a combination of tough high-intensity intervals and long continuous rides at low intensity.
What does this equate to in terms of heart rate and FTP-values? Hydren & Cohen provides the following table: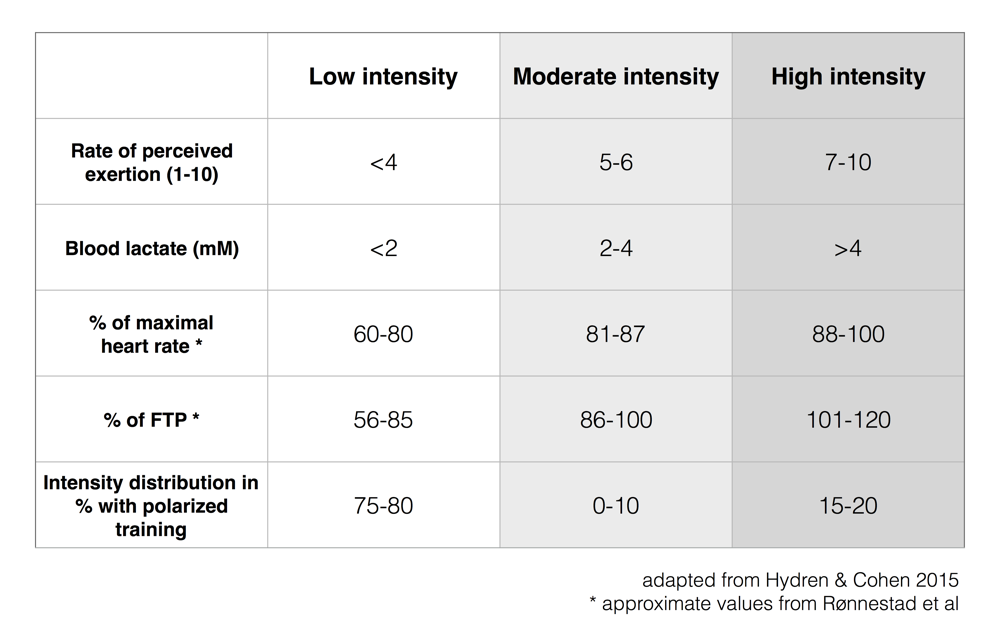 You should know that science often express intensity in blood lactate or VO2 values, rather than heart rate and FTP values. As such, you will not be able to find a paper on polarized training that tells you what percent of FTP to train at.
To address this challenge I have added experience-based heart rate and FTP values as they have been described by sport scientists and world class cycling coaches (2).
For moderately trained riders polarized training will usually involve intervals with a total high-intensity work duration of 10-35 minutes per workout. Highly trained athletes will typically perform similar intervals with a total duration of up to 20-50 minutes.
The shorter 20 minute sessions would normally occur in the upper range of VO2 max training, bordering on anaerobic work (approaching 120% of FTP and high 90 percents of maximal heart rate). A 40-50 min session would take place in the lower range of VO2 max training, bordering on threshold training (around 105% of FTP and plus/minus 90% of maximal heart rate).
However, polarized training could involve any kind of intervals occuring in the high-intensity spectrum.
What is the evidence to suggest you should take on a polarized training model?
In recent years, several well-designed controlled studies have demonstrated compelling results with polarized training, when contrasted to other commonly used training models.
Polarized training has greater impact on key endurance variables than threshold, high intensity, or high volume training
I have previously discussed the study by Stöggl and Sperlich from 2014 (3). They compared the effect of polarized training with high-intensity interval training (HIIT), threshold training and high-volume low-intensity training in 48 athletes from cycling, triathlon, biathlon and running.
They report greater improvements in threshold power and VO2 max following 9 weeks of training with the polarized model.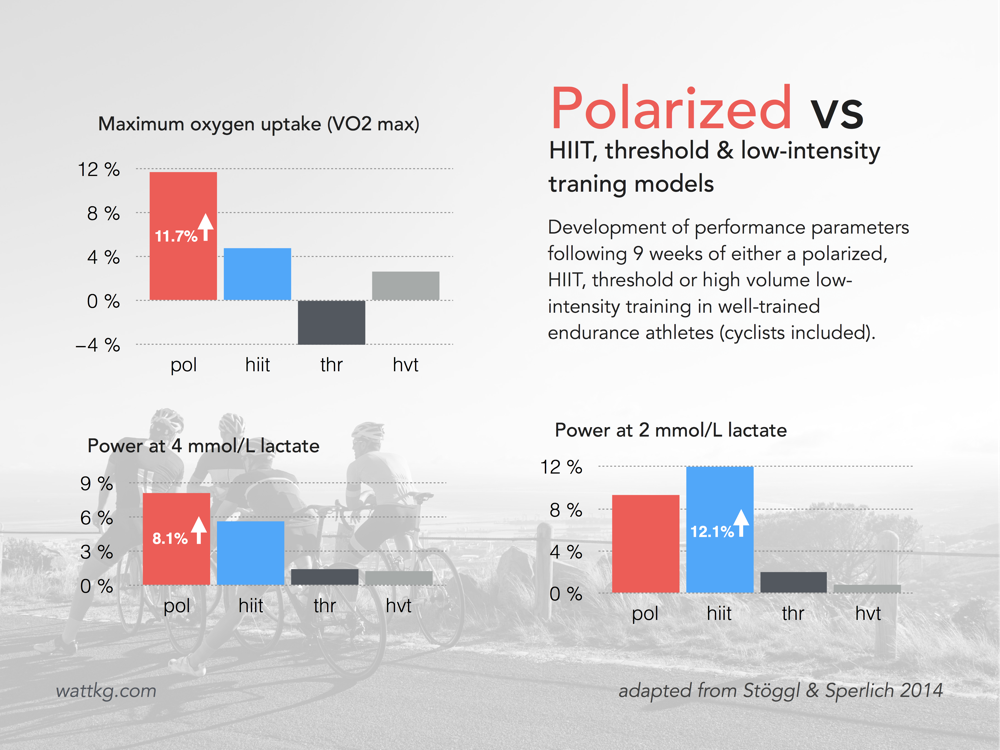 However, Stöggl and Sperlich were far from the first authors to investigate polarized training. Back in 2013, Neal and colleagues did a similar study on cyclists with a slightly shorter follow-up period.
Six weeks of a polarized training-intensity distribution leads to greater physiological and performance adaptations than a threshold model in trained cyclists
This study compared the effects of 6 weeks of polarized training with threshold training model of similar duration in cyclists (4).
Who were the riders?
12 well-trained male cyclists with a mean age of 37 partook in this study. They had all been training consistently for more than four years and trained 5-10 hours and 4-5 training sessions per week for at least the previous 6 months.
How did they train?
The riders in the polarized group performed 6 weeks of training with a training-intensity distribution of 80% low-intensity and 20% high-intensity work.
Note that this distribution is based on the so-called "session goal" approach. This involves assigning the entire duration of a single workout to the intensity zone that was the intended focus of the session. E.g. a 1 hour session including high-intensity intervals would be recorded as 1 hour high-intensity training (even if the actual intervals only added up to 20 minutes).
Although this method might seem inaccurate, it is frequently cited in the exercise science literature, and has been found to agree well with intensity categorization based on rate of perceived exertion (5).
The high-intensity sessions included six intervals of 4 minute duration (6×4 min) with 2 min recovery periods. Power output of the intervals was set to 5-10% greater than lactate threshold power (which would correlate to approximately 105-110% of FTP). Heart rate was also aimed to be greater than the HR correlating to threshold power.
The threshold group performed 6 weeks of training with a training-intensity distribution of 57% low-intensity, 43% moderate intensity (threshold training) and no high-intensity training. Threshold sessions included 60 min at threshold power.
How did they respond?
Following six weeks of training, the polarized group displayed greater within-group improvements.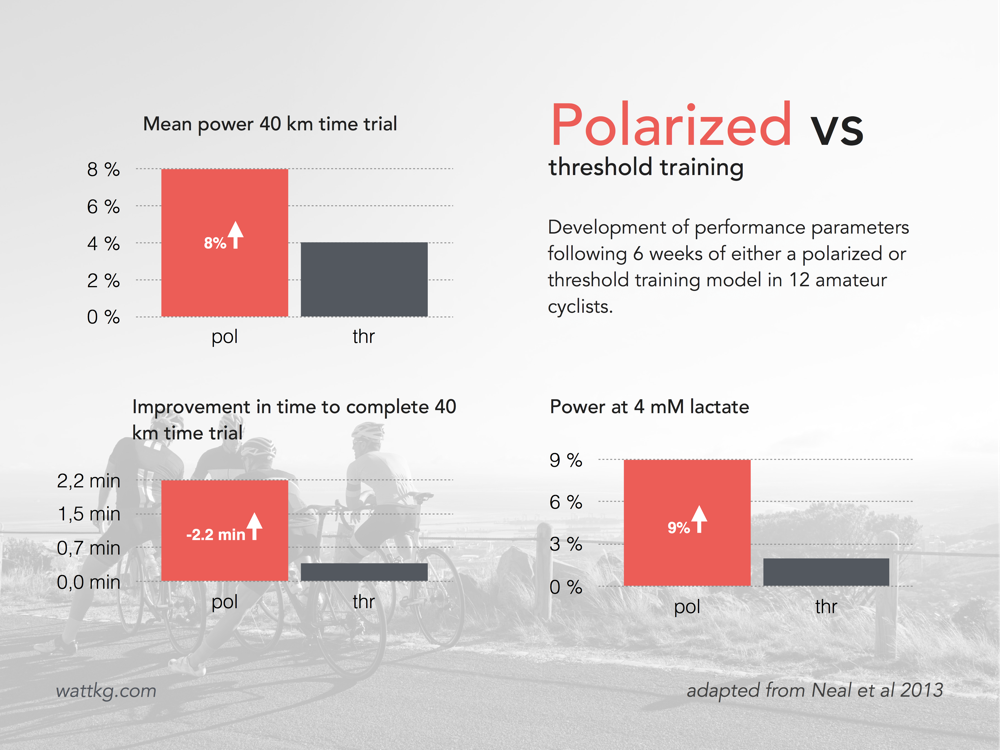 Mean power output during 40 km time trial improved by 8% following polarized training, versus 4% following threshold training. Time to complete the 40 km TT improved by 2.2 minutes in the polarized group. By comparison, the improvement was 0.4 minutes only in the threshold group.
Threshold power increased by 9% following polarized training versus 2% after threshold training.
Peak power output improved by 8% from polarized training. In comparison, a 3% improvement was reported following threshold training.
The differences between the groups were statistically significant for threshold power and peak power output. This strengthens our level of certainty in that the difference is in fact due to the training intervention, rather than chance and coincidences.
We cyclists tend to be most interested in cycling-specific research. However, there is often additional insight to be gained by glancing at research performed in other endurance sports.
Results from polarized training experiments in other endurance sports
Muñoz and colleagues compared 10 weeks of polarized, low-intensity and threshold training in 30 Spanish recreational runners (6). They found a greater improvement (5% vs 3.6%) in 10K race-time with polarized training compared to threshold training. However, results were not statistically significant.
In a study by Esteve-Lanao and colleagues, 5 months of polarized training resulted in significantly higher improvements in a 10.4 km race (-157 seconds) compared to threshold training (-122 seconds) in 12 sub-elite endurance runners (7). Results were statistically significant.
An interesting study was published by Yu and colleagues (8). They followed the Chinese national speed-skating team's daily training load over the course of two seasons. The first season, the team followed a threshold training model. The second season, the focus changed to polarized training. The second season yielded significant performance gains (average increase 2-4%), resulting in several Olympic medals in these professional athletes.
It is quite interesting to see that the polarized model is reported to result in performance enhancement in recreational and professional athletes alike, and across different endurance as well as sprint disciplines.
The above studies have been reviewed in several recent research papers (1, 9).
Effect sizes for increasing aerobic endurance performance for the polarized training model are consistently superior to that of the threshold training model.
– Hydren & Cohen, Journal of Strength and Conditioning Research 2015
In addition to the above mentioned experimental studies, we also have numerous descriptive studies to support the model of polarized training.
In a very useful paper from 2010, Seiler reviews training data from high-level cyclists, runners, cross-country skiers and rowers. Although this study did not examine polarized training in isolation, it does draw an interesting conclusion (10).
The descriptive studies above highlight the paradoxical finding that even though all Olympic endurance events are performed at or above the lactate threshold, the large majority of the training performed is completed below lactate threshold intensity.
From my understanding, this goes a long way in supporting the low-intensity aspect of polarized training. Seiler then continues:
The duration of monitoring from published studies varies from weeks to an entire season but seems to converge on a common intensity distribution: about 80% of training sessions are low-intensity and the remaining 20% are performed as threshold or high-intensity.
Stephen Seiler, International Journal of Sports Physiology and Performance, 2010
Do notice, that although polarized training has outperformed a strict threshold model in several studies, you probably should not close the book on threshold training just yet. However, the topic of threshold training appears less straight forward than polarized training. I will elaborate further on this in a later module.
For now, let us focus on the take-aways on polarized training…
Important take-away-points on polarized training
Like Holfelder et al state, it is too soon to conclude what is the ultimate distribution of training intensity. However, in the spirit of de-complicating training science, consider the following:
1) If you seek to achieve the biggest possible outcomes with your training, you will find no better documented model than the polarized training model.
2) More specifically, combining high volumes of low-intensity training with regular high-intensity intervals is shown to yield significant performance enhancement in amateur, sub-elite and professional athletes alike.
3) This makes polarized training a versatile training model for development of your endurance capacity.
Consider it the first of many stepping-stones to guide you on your path to improving that power to weight ration.
References:
Hydren JR and Cohen BS. Current scientific evidence for a polarized cardiovascular endurance training model. Journal of Strength and Conditioning Research, 2015;29(12):3523-3530
Rønnestad BR, Knutsen E, Lexberg K and KrisHansen S. Treningsanbefalinger for å bedre sentrale fysiologiske faktorer i sykkelprestasjon – teori og praksis. Olympiatoppen, Norges Cykleforbund, Høgskolen i Lillehammer. Accessed 14.02.2018.
Stöggl T and Sperlich B. Polarized training has greater impact on key endurance variables that threshold, high intensity, or high volume training. Frontiers in Physiology, 2014;5:33
Neal CM et al. Six weeks of a polarized training-intensity distribution leads to greater physiological and performance adaptations than a threshold model in trained cyclists. Journal of Applied Physiology, 2013;114:461-471
Sylta Ø, Tønnesen E and Seiler E. From heart-rate data to training quantification: A comparison of 3 methods of training-intensity analysis. International Journal of Sports Physiology and Performance, 2014;9:100-107
Muñoz I et al. Does polarized training improve performance in recreational runners? International Journal of Sports Physiology and Performance, 2014;9(2):265-272
Esteve-Lanao J and Foster C. Impact of training intensity distribution on performance in endurance athletes. Journal of Strength and Conditioning Research, 2007;21(3):943-949
Yu H et al. A quasi-experimental study of Chinese top-level speed skaters' training load: threshold versus polarized model. International Journal of Sports Physiology and Performance, 2012;7(2):103-112
Holfelder B et al. Polarized training: eine systematische Übersichtsarbeit. Swiss Sports & Exercise Medicine, 2016;64(2):44-50
Seiler S. What is best practice for training intensity and duration distribution in endurance athletes? International Journal of Sports Physiology and Performance, 2010;5:276-291