Most keen cyclists are familiar with the concept of FTP, which is short for functional threshold power.
FTP is commonly used to estimate the anaerobic threshold of cyclists and serves as a basis for exercise intensity prescription.
However, there are a few issues with training intensity prescription.
For starters, prescribing training intensity by FTP is not without pitfalls.
Secondly, research papers often provides measures of intensity by other parameters than percent of FTP (often percent of VO2 max, percent of HR max, percent of maximal aerobic power (MAP) or percent of peak power output (PPO).
This can make it challenging for riders to apply the results from scientific publications in their training.
A useful chart for converting and prescribing training intensity
You got to love it when people involved in the science of cycling creates open access resources to help you out.
Which is exactly what Peter Leo and Jamie Stanley did just recently.
You may recognise Leo as the first author of a recent publication on the training characteristics and power profile of professional U23 cyclists.
Leo and Stanley recently uploaded a neat Excel spreadsheet of intensity zones and their physiological targets with corresponding values given for FTP, heart rate, RPE, MAP and Pmax.
Also, they provides estimates of approximate effort durations at the different intensities.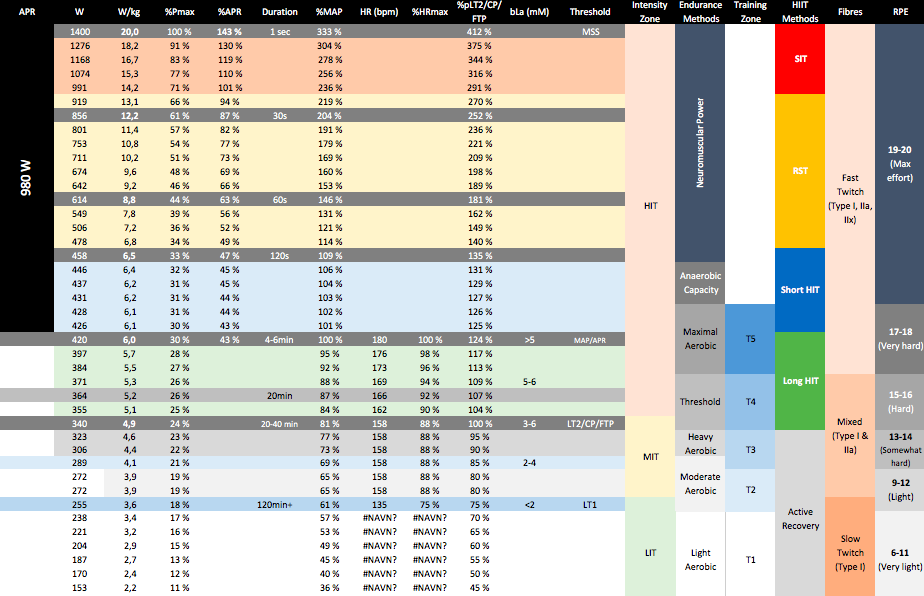 Some minor changes thanks to some feedback of some research fellows especially (Manfred Zöger): https://t.co/Pswj0z0PFy

I will keep working on the template as the goals for @jamiestanley85 and myself are to provide a practical concise tool. https://t.co/Co3Me04R7a

— Peter Leo (@peter__leo) January 17, 2021
According to Leo, the sheet is derived from existing methods as covered in the book "The Science and Application of High-Intensity Interval Training" (1).
The authors have made the Excel sheet available for download, open-acces from Researchgate.
Go to Researchgate.com for download
PS! In the past, Researchgate has had a tendency to interpret the traffic from my website as spam, due to a considerable amount of immediate traffic.
If you are having problems with the download, the author kindly allowed me to share it in this post:
Download from Wattkg.com (.xlsx 32 kb)
References:
Science and application of high-intensity interval training: Solutions to the programming puzzle. Editors: Laursen P & Buchheit M.